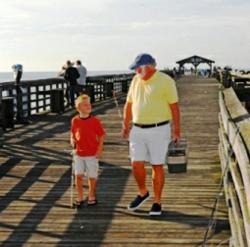 Sometimes the best things in life are free.
Tampa, Florida (PRWEB) December 30, 2012
As we launch 2013, family vacation planning time will be in full swing. To facilitate the process TheFamilyTravelFiles.com is showcasing oodles of affordable family vacation activities in a "Free Almost Free" vacation folder available online. The lifestyle folder features useful destination information about free or almost free family fun spanning popular vacation spots in North America.
"Save money, and have more family fun. It's a nice way to begin 2013," says Nancy Nelson-Duac, family travel expert and editor of the popular family vacation planning website - TheFamilyTravelFiles.com. She goes on to say, "Free events and activities, free museum days and free guided hikes add extra value to any family vacation while providing outstanding ways for parents or grandparents to share time with their children creating priceless memories. Sometimes the best things in life really are free."
The Free Almost Free folder presents a collection of ideas which demonstrate that there's plenty of free fun to be enjoyed by families. Examples include free skiing at Winterplace in West Virginia as well as Steamboat's Kids Ski Free™ and Grandkids Ski Free programs. Destinations with attractive free activities and benefits include museums and concerts in Washington DC, storytelling in New York City's Bryant Park, nature walks San Diego's northern region, free cell phone tours in Philadelphia, and Alexandria, Virginia's Torpedo Factory is the spot for free mini adventures.
Popular family vacation spots often add free events or free days -- a plus to any vacation budget. There's free rock 'n roll for everyone at Kissimmee's Old Town Friday Nite Cruise, and at Lake Kissimmee State Park in Central Florida park rangers conduct free "Cow Camp" living history sessions on weekends and holidays. Hike or fish for free in Southern West Virginia's Pipestem Resort State Park; take a free tour of GM Renaissance Center in Detroit. Admission is free to The Museum of Afro-American History in Boston and the perfect addition to free time onboard the USS Constitution and the nearby USS Constitution Museum; kite flying and free fishing make Virginia Beach extra appealing; kids golf free in Myrtle Beach, SC, adds family vacation benefits all summer long.
The entire list of suggestions may be reviewed by browsing [Free or Almost Free lifestyle folder from the homepage at theFamilyTravelFiles.com.
About theFamilyTravelFiles.com. Founded in 1998, theFamilyTravelFiles.com is one of America's top-rated online family travel resources offering more than 1,000 pages of timely family vacation ideas and trip planning information. The website specializes in displaying family vacation ideas, destination information for adults planning family vacations, advice about family trips, and family travel deals. To assist in narrowing searches, colorful vacation idea folders are visible throughout the website.
Lisa A Duac Publisher (813) 968-4799 or publisher(at)theFamilyTravelFiles(dot)com
Nancy Nelson-Duac (817) 573-6920 or editor(at)theFamilyTravelFiles(dot)com
# # #