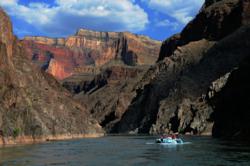 Grand Canyon, AZ (PRWEB) December 31, 2012
Arizona River Runners recently launched a fresh new, customer-focused website. The site http://www.RaftArizona.com, is designed to help customers find the perfect Grand Canyon rafting trip with easy access to essential information.
Arizona River Runners co-owner Bruce Winter says: "At ARR we have always taken our customers very seriously, talking and listening to them, and taking their needs into consideration. We have taken extra time and designed the new website to give customers more information, easier access to trip information, reservations details, and more."
The website's user-friendly nature provides visitors with more efficient access to trip information such as length, date, oar or motor powered, packing lists, itineraries and more about what to expect on a Colorado River trip. It gives customers more detailed information, close up photographs of boats, guides, and Grand Canyon rafting! "Our customers want to be able to choose on-line, to see our Grand Canyon rafting trips, who we are and how we work," says Winter.
Visit http://www.RaftArizona.com to choose a Grand Canyon raft trip. All trips launching before May 20, 2013 have an Early Season discount. Due to popular demand they have also added multiple Hikers Special Trips only available in April and May.
About Arizona River Runners
Since 1970 Arizona River Runners has provided all-inclusive white water rafting trips. They have a variety of trip offerings from 3, 6, 7 and 8-day motorized river rafting adventures to 6, 8, 13-day oar powered whitewater trips. They have grown to be one of the most innovative, and well-respected outfitters operating in the Grand Canyon. They operate customized state-of-the-art rafts, provide all the camping and rafting gear rafters will need for a Colorado River trip. Experience an adventure of a lifetime on a Grand Canyon rafting trip with Arizona River Runners.
Arizona River Runners Contact Information:
1-800-477-7238
Fax: 602-867-2174
info(at)raftarizona(dot)com
http://www.raftarizona.com