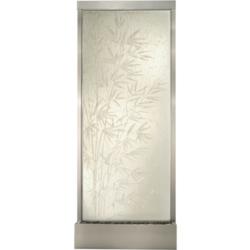 Camas, Washington (PRWEB) December 30, 2012
Soothing Walls announces the launch of a brand new line of self-reliant water walls featuring many diverse and creative designs. These water features are a unique, three-dimensional piece of art. Each one is hand-crafted with skill and precision. With simple installation and setup, clients will soon realize the comforting qualities it offers. Solely used for indoor displays, these water fountains are designed and fashioned to embody the professional or stylistic decor of any home or office place.
Every water wall is packaged with a one-year warranty on the electric pump used to run the fountain. Not only are they a beautiful addition to any home or office, they also act a natural humidifier for the room. Feeling stressed or tense? The Soothing Walls floor fountain can help bring a calm and relaxed atmosphere to any room. With the frantic lives that individuals live today it is important to have a place of escape and peacefulness. Not only does it boost one's intellectual health, but improves physical health and comfort. Studies have given light to the idea that stress is a potential root of chronic health conditions. It is essential after a long day of work and life that people make time to unwind and clear their mind of stress.
Inventive floor water features can be fitted and installed in any room of a home or office place. With a larger and more in-depth collection, consumers can now find and select any fountain design from modern to traditional tastes. Consumers are given the option to add any personal photos or logos to the floor fountain to create an exceptional and truly personal soothing fountain. From homeowners to corporate clients, anyone can create and order their own personal, hand-built floor fountains to fit their needs. By visiting http://www.soothingwalls.com customers are given the easy option of searching by price, size, material, and style of the fountain.
About Soothing Walls
Soothing Walls is a dedicated business to those searching for beautiful well-crafted fountains. Their main goal is helping consumers find and create their very own custom fountain to fit their own homes and offices. They also sell products ranging from indoor to outdoor fountains. While giving a sense of style and professionalism, these high quality water fountains help calm the nature stresses of life and improve the body and mind. Visit http://www.soothingwalls.com for more information on the products available.
# # #