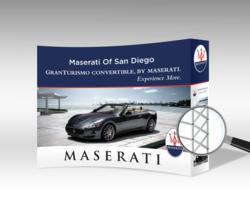 It's all about the work!
San Diego, California (PRWEB) December 30, 2012
Savvy marketers are busy getting their arms around the new world of social media. Even more effective marketers are learning how to incorporate the tried and proven use of print media into their offerings. The savviest and most effective marketers are integrating all forms of media, proven and new. These successful marketers understand that it is all about branding, capturing a place in the customer's mind and perception with a professional corporate identification.
Santora Media Group has developed an approach to integrated media that has its competitors racing to catch up. As a printer, producing quality business cards, banners, stickers, flyers and a host of other print media was a cornerstone of early success. With advancing technology, the company brings new capabilities to its clients with innovative signage and presence marketing.
Recognizing the growing importance of the art of branding, the team at Santora Media Group has emphasized leading edge graphic design as an essential component of all that is does. Technical capabilities today allow the smallest company to demand and expect a Fortune 500 level of image consistency across its entire media presence. These expectations have been created and met by the work done at Santora.
The days of plain Jane signage that is the staple of many printers are long gone for demanding marketers. They are aware that today's competitive printers have the capabilities that allow a branded look from the traditional basics of business cards, banners, stickers, and flyers to innovative signage to websites and Facebook pages.
It is increasingly important for businesses to demand this level of market presence, simply because their customers have come to expect it. Whether it is a flyer or an outdoor sign, every dollar invested in creating a company's marketing message should also build its brand.
Business simply moves too fast today to deal with marketing materials on a piecemeal basis. Advertising agencies have been offering an integrated solution for decades. Their solution is outside the budget of all but the largest companies. Print companies have been around for a long time printing the stickers and flyers and banners that are important to many businesses. These printers use art work and designs usually provided by someone else. There is no concern with the overall corporate identity. Even if the thought occurred to the printer, there is no capability to deal with it.
Technology and vision make that approach unacceptable. Case study after case study shows that a powerful corporate identity makes marketing expenditures much more effective. Having the capabilities and vision of an advertising firm working synergistically with the affordability of an efficient print shop is the new media model.
A door has been opened in print media expectations that can't be shut. The companies that survive the competitiveness of today's markets are raising the bar in what they expect from their marketing partners.
Santora Media Group has run with that vision. Their capabilities and vision have evolved a partnership environment with their clients. They are continuing to build on this success and raising the bar even higher with the latest in print technologies. Design, identity, depth and breadth of media, execution, quality. All words that are a part of the integrated media solution that has allowed this print company to become a marketing solution powerhouse.