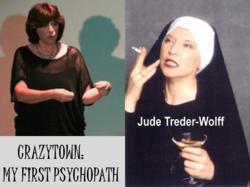 New York, NY (PRWEB) December 30, 2012
Saturdays January 19 & 26, February 2 & 9, 2013 at 7 p.m at Actors Theatre Workshop, 145 W. 28th Street, Third Floor, New York, NY
'Well-written and funny." -- Back Stage
"Self-medicate with real-life therapist…expect the unexpected! And without the hourly rates."
-- New York Daily News.
"A touch of therapy with a lot of laughs and music seems exactly what the world needs now."
-- Cabaret Scenes
Written and performed by Jude Treder-Wolff
Musical direction and songs co-written by Wells Hanley
An official choice of the 2012 Chicago and San Francisco Fringe Festivals, CrAzYToWn: my first psychopath is a comic take on how an encounter with psychopath helped an over-eager therapist get over herself - when nothing else seemed to be working. In this storytelling show with original music real-life therapist/performer Jude Treder-Wolff takes audiences down the rabbit hole of belief that led to her experience of being blind-sided by reality, in a cautionary tale about how authentic a completely fake person can be.
Performances take place at Actors Theatre Workshop, 145 W. 28th Street, Third Floor, New York, NY
Tickets are $12 and can be purchased at smarttix.com or by calling
(212) 868-4444.
Show Dates: Jan 19, 26, Feb 2, 9 2013
Produced by Lifestage, Inc.
More information can be found at http://www.judetreder-wolff.com and http://www.lifestage.org
Audience reviews say: "'This show is hysterical! So many great lines!"
"Crazytown is crazy good,"
"Jude Treder-Wolff's show is brilliant, poignant, and thought-provoking that somehow intertwines hilarious insights. Side splitting funny, not to mention her wonderful voice and the brilliant original music."
"Fascinating tale of her own transformation during a stressful time in her life. It is touching and humorous and musical. A great combination and totally unique."
Crazytown: my first psychopath has been in development since 2011 and been performed at the 2012 Chicago and San Francisco Fringe Festivals, Broadway Comedy Club, Charles B. Wang Center at Stonybrook University, The Examined Life Conference for medical professionals at the Carver College of Medicine at the University of Iowa, The Conservatory NJ in Trenton, NJ, ArtSpace in Santa Fe, NM and charity benefits in Santa Fe, Wisconsin and Chicago.
Treder-Wolff blogs on the website Funny or Die and writes about Interpersonal Relationships on examiner.com. She speaks and presents on topics of improvisation, creative thinking, storytelling and comedy for corporations and organizations around the country, gives a monthly presentation on aspects of Emotional Intelligence for Brookhaven National Labs and frequent workshops for staff at the New York Public Library. She is published in the International Journal of Arts & Psychotherapy, Music Therapy Perspectives, Psychodrama Network News and has been interviewed for articles that appeared in Newsday, The Chicago Tribune, The Chicago Sun-Times,, LA Times, Women's Day, and Three Village Times. She was interviewed about "The Healing Power of Storyteling" on Annie Abrams Blog Talk Radio show.
Prior to developing this true storytelling-style show, Jude Treder-Wolff combined standards with stand-up at cabaret clubs, including the Laurie Beechman Theater, Danny's Skylight Room, Rose's Turn, Judy's Chelsea, and The Duplex, Stand-Up New York, New York Comedy Club in NY, The Vail-Leavittt Theater, Charles B Wang Center, and the Ward-Melville Education and Culture Center on Long Island, Ovations in Houston, and BucketWorks in Milwaukee. From 2004-2005 she hosted the Jude Treder-Wolff Thursday Nite Psychotherapy Group an innovative weekly comedy and cabaret show at Rose's Turn in New York. She raised $10,000 in one solo performance for the not-for-profit organization Creativity For Peace in Santa Fe, NM, and raised thousands of dollars in sold-out performances for Habitat For Humanity and Oxfam America. With grant assistance from the New York Foundation For The Arts she wrote the book and lyrics for Tapesty of Hope, a musical based on the AIDS Memorial Quilt which toured the New York area raising awareness about HIV/AIDS and funds for the educational efforts of the NAMES Project.