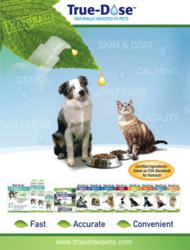 We are committed to helping pet parents provide natural, safe ways to help their pets.
St. Louis, MO (PRWEB) December 30, 2012
True-Dose has launched a new feature on its website this month called the True-Dose University. Store employees and pharmacists will get the opportunity to be educated about the benefits of its products. True-Dose, which provides pet supplements manufactured at human quality, also hopes to give employees first-hand knowledge of its products.
After watching a short video and taking a short quiz, participants will receive a free bottle of any True-Dose product. This will allow employees to recommend products to customers based on their education and personal experience. Store employees can use this education to provide accurate dosing and use information to customers.
Product Manager Amy Malpocker said, "True-Dose hopes to provide retailers a simple way to educate pet parents about their products."
"Our goal is to make it as easy as possible for our retailers to train their staff. We know True-Dose will be a success in stores with our support, and we are committed to helping pet parents provide natural, safe ways to help their pets," said Malpocker.
True-Dose uses patented technology to provide pets with a higher level of quality in nutritional and functional supplements. The supplements are manufactured in a human-grade pharmaceutical facility, following the same strict testing and quality standards mandated by the FDA for state-of-the-art pharmaceutical product manufacturing. Our raw ingredients are certified and tested to ensure they meet our strict quality standards.
True-Dose includes products for canines and felines that address joint care, skin and coat, calming, wellness and dental. True-Dose has been clinically proven to have faster absorption rate and higher peak concentration than tablets and chewables in a head-to-head crossover study conducted by the Oklahoma State University Veterinary Animal Science and Research Departments. The founders of True-Dose have long had the goal of providing human-quality, pharmaceutical-grade products to our four-legged friends.