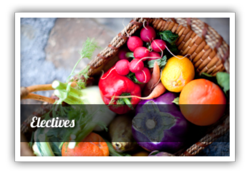 A free complimentary health history consultation
Chicago, IL (PRWEB) December 30, 2012
TMAIDA PR and CHEW, a Chicago IL, Health and Corporate Wellness company now offers a program called "Electives," which now includes a complimentary health history consultation. This is a life-changing, one-on-one grocery shopping session where CHEW will assist in the healthy navigation of any grocery market for the right foods that best suit the client and their health and wellness goals.
Please note: Electives are offered in the Chicagoland area only.
For more information on the new program called "Electives" head over to CHEW at: http://www.jmchews.com/services.
About CHEW
CHEW (Complete Health Education and Wellness) was founded by Jessica Marie, a Certified Health Coach and Healthy Living Expert. Providing holistic health and wellness for individuals since 2007, Jessica Marie strives to give people healthy lifestyles whether they are at home or in the workplace. CHEW offers health programs, interactive workshops, and Chicago Food, Fitness & Fun Tours for individuals and corporations.
For more information about CHEW, call the company at 773-717-2439(CHEW) or visit the website at http://www.jmchews.com.
# # #