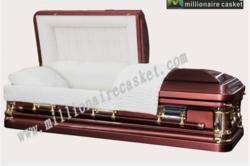 Our metal caskets are 100% manufactured with the high-quality craftsmanship and materials.
(PRWEB) December 29, 2012
Recently, MillionaireCasket.com, a professional casket company, has released its metal casket collection to enrich its product line, and expand its market share.
According to Zoe Wong, CEO of the company, these metal caskets are made from a variety of metals. The most popular include bronze, copper and stainless steel. They can be made in a variety of thickness and weight. Bronze and copper metal caskets are often made from 32-ounce metal, and steel metal caskets can come in 16, 18, or 20 gauge metal.
Zoe Wong said, "Our metal caskets are 100% manufactured with the high-quality craftsmanship and materials, and come with a special locking system that makes the metal caskets difficult to open once it has been closed."
Metal caskets continue to be the most popular type of casket available. Their renowned durability proves, year after year, to be a great comfort to love-ones.
Besides caskets, MillionaireCasket.com also makes and supplies urns, embalming tables, church trucks, stretchers, church furniture, keepsakes and other related funeral products. They hope to be a one-stop funeral supplier.
In addition, MillionaireCasket.com has launched a promotion for all its casket products, including metal caskets, wood caskets, oak caskets, and so on. Any order placed before Jan. 20, 2013 can get a discount.
About MillionaireCasket.com
MillionaireCasket.com is a leading China casket manufacturer, and focuses on the business of casket wholesale. This company offers an exquisitely crafted line of all kinds of metal caskets, solid wood caskets, veneer caskets, cremation caskets, rental caskets, orthodox caskets, infant or over-sized caskets and European style coffins. The standard quality control policy is strictly applied here, and a third party quality assurance is also available.