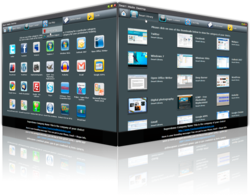 Smart Media Technologies has spared no expense to insure that it will be the next Internet Superstar.
Hartford City, IN (PRWEB) December 31, 2012
A lot has changed since the early days of e-commerce and Smart Media Technologies has innovated a powerful new way for Technologies companies to reach their customers. Unlike the physical world where a new business could simply open its doors in a high traffic area or purchase billboards these online businesses quickly learned that such a model would not work in the virtual world because the virtual world like the universe is so vast and is constantly expanding. To put it in other terms of the universe - even today making a website is like opening your business and placing it on a star - only until you advertise it will anyone even know it exists.
In the beginning there were no real heavy traffic sites where people could advertise their sites. While there were other websites how was anyone to know if paying to advertise there was worth it and since none of them really had a lot of traffic another solution was needed and thus the Affiliate program was first introduced. The Affiliate program was simply the seller would create a replicated version of their site. The affiliate would then advertise that on their own website and the seller would pay the affiliate a small percentage of any sales that were made as a result of that advertising. The advantage of this type of advertising was that the seller only paid for actual sales made. While effective, it was still very slow because sellers needed to know other website owners in order to find places to advertise. Also, sellers needed a way to reach other website owners and other Affiliate marketers.
The next logical step
Sellers quickly realized that Affiliate marketers knew other Affiliate marketers but were not about to tell them about the programs that they were affiliates for because that would create unnecessary competition for them. In order to entice them to do that they introduced a second level to their Affiliate programs so this way the Affiliates could make money off of the sales made by affiliates that they told about the company. Today most e-commerce websites have an Affiliate program & even companies who were in business in the real world long before they had a website like Walmart and Target, for example.
Next was the beginning of multi-level Affiliate programs. These were very similar to some of the real world MLM companies where you had to pay a fee to be an Affiliate but they paid out on more than just 2 levels. Avon, the largest MLM company in the world works like this but they worked that way long before the Internet existed.
The Future of Online Marketing
Today we have products that are completely virtual that can be delivered to anyone anywhere in the world over the internet. But just like any physical product they still need to be marketed. In standard marketing one would hire a marketing company who will create an ad campaign and then pay for advertising and hire salespeople to go out and sell the product. However, online this is much more expensive than in the real world and carries huge risks. These companies have to pay every single salesperson they have on staff. While they could fire them if they don't perform, they still have the expense of hiring, training, benefits, etc. so there is always a limit on how many people they can employ.
With MLM a company could have 100,000 salespeople the first year and not pay a dime for any that do not perform. MLM also offers an equal opportunity for all people. There is no applying for the job or having job experience. Anyone who thinks they can do it can have their chance to prove themselves. They get the benefit of owning their own business without all the expense of starting their own business. In other words, they can start from day one as a multi-million dollar company. One might say it is like a franchise without all the costs of a franchise.
It is a common sense choice
Once a company has spent the money to make the product they need to market it. In standard business that means spending a lot more money. They build their business slowly or take on Investors who will basically tell them how they are going to run things and take a big percentage of their profits. Or they could choose MLM where all the costs of Advertising, Marketing and Sales are covered 100% by individual marketers. Since the marketer is paid on several levels the cost of advertising is much lower because they have the same benefit that the company has in that others are also paying to advertise their business for them.
Companies like Facebook and Linkedin, for example, use standard marketing but they also use a similar free Affiliate model as well, and if it were not from that model they would not be nearly as big as they actually are. It is free because they don't pay anyone to refer people but they use people to get their referrals. When current members use things like "tell a friend" or "invite a friend" they are doing the same thing that Affiliate or MLM marketers do only they are not getting paid for it. While these programs are free the company still makes money off of those people because without those people there would be no one to see the ads that they sell to make the money that they make.
Smart Media Technologies makes its money the same way that those companies do. However, there are 2 very big differences.1 ) they have chosen Multi-Level Affiliate Marketing as a way to promote it. 2) they actually had a product before they started promoting it. Before those companies started promoting they had nothing of any real value. Yes they had a site where you could share ideas with other people but when they started there were no people. Smart Media Technologies spent 10s of millions of dollars and years in development before they started to promote their products. In other words, the people are not their product. However, they decided that they could help a lot more people if they could give their products away rather than sell them and that is why they chose to use advertising to cover the cost of the product. Now they have products that are completely free for users but rather than using the "tell a friend" method to spread the word to the world they have chosen to share the wealth which is proving to be much more powerful. With the release of their product 'Home Page Pays' they have far surpassed where Facebook was in the same time in its history. With the release of version 2 of their product drawing near they could become the highest traffic website in the world in just a few short months when they go one step further and even start sharing the wealth with the free user.
While this new way of doing things may not be the best option for companies like Target and Walmart this could very likely be the wave of the future for the new Facebooks and Linkedins alike - that is if they want to be competitive.
You can learn more about Smart Media Technologies, Home Page Pays and their other innovative products from the Smart Media Digital Magazine as well as how they can help you to better brand your company online.