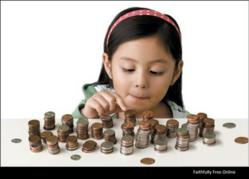 The author emphasizes the need to set realistic financial goals so that children grow up grounded in financial reality
New York City, New York (PRWEB) December 29, 2012
American parents are facing a conundrum these days. Kids are not doing as well in school. Meanwhile, the cost of education keeps rising and families are often caught in a decades-long battle to prepare their kids get slots at the best universities. They hope that the best education is the guarantee to a successful life. When the kids do graduate, many parents are shocked to find the kids returning home unemployed, staying over for long periods of time, drinking their beer and staying out late.
Are Americans kids hopelessly spoiled? An article at financesonline.com argues that you can teach kids the value of responsibility by teaching them about money. Told from the perspective of three parents with varied backgrounds, the article – "Any Time is a Good Time to Teach Kids about Money" – presents 12 rules that provide practical advice on how to groom your children to be financially literate at various points in their lives.
There are fringe benefits offered by these rules that don't necessarily have to do with counting cents and dollars. The corollary activities surrounding the implementation of these rules require the values of hard work, self-discipline, and collaboration all of which equip children to survive in an increasingly competitive world.
Nancy, one of the mothers featured in the article, says that we should simply stop paying. That is, we should stop giving in to the whims and caprices of our kids just to "keep the peace." Instead she proposes that each request be used as an opportunity for learning the value of money. Mary, on the other hand, wants to teach kids about money at the earliest stage possible. The author emphasizes the need to set realistic financial goals so that children grow up grounded in financial reality.
Some of the rules presented in the article provide a fresh perspective on household finance. Some are reinforcements of time-tested principles about money management. All are ultimately worth reading up on because parenting is a full-time job and we all need to do the homework, especially on a topic as critical to our children's lives as money.