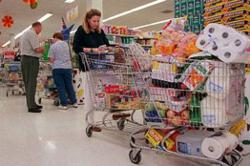 Parents can manage the household food to at once set their parental authority and care to their struggling adult-child.
New York City, New York City (PRWEB) December 29, 2012
The article by FinancesOnline.com faces off with the horror of horrors when grownup kids decide to live with their parents again for financial reasons. With the economy tightening, careers on hold and jobs getting scarce, this picture is getting more common across American households. Should parents starve their comeback kids to force them out or should they show more sympathy but risk making the kids complacent? The article strikes a balance.
This article is helpful for parents looking for tips to handle the delicate familial issue or kids wanting to ease their burden to the household.
The boomerang kid—he left off some time ago to live on his own, then appeared one day on your doorstep to reclaim his room—is not a prodigal son. He is loved, but he is not welcome to stay. So when he stays, it's a parent-child (now an adult) explosive mix that can set the house on fire. Not really, as the article shows how parents can manage the household food to at once set their parental authority and, of course, care to their struggling adult-child.
The article shows the strategic places in the house where to cast looming grey clouds even before they form. The refrigerator, dining table, cupboard… these places can be territorial disputes between parents' and the boomerang kids' food choices and habits. But they can be the parents' home-court advantage to manage the food budget, and the kid's emotions.
Maintaining the refrigerator's usual content can set the tone that the parent is the homeowner and the kid the guest. But the article also suggests leaving room for flexibility now that your son or daughter would probably add a junk or two to your healthy line of food choices inside the ref.
Likewise, eating meals together is not only a great way to re-bond with your kid, but a practical step to cut down on costs. Menu planning and stocking on staples, such as pasta, rice, beans, flour and spices for whipping up fast meals can save you the cost of eating out. Probably still a memory away from his or her dorm years, your kid can make some surprising combination of these staples for snacks.
A kid at home can be handy to help in the groceries. Make sure to make a list and stick to it, the article warns, and create schedule trips to avoid added fuel cost and impulse buys. Some more simple tricks are thrown in the article, such as using a grocery basket instead of cart (find out why) and preparing snacks and even coffee as takeaways for the kid when he's out for work or looking for one. The article notes that encouraging your kid to drink home coffee instead of Starbuck's is a big step to calming down the cost.
Do you welcome boomerang kids in these trying times or are you part of the old-school thought that grownup kids live on their own? Read "7 Ways to Get Wise with Food…" and see how you can strike a balance.