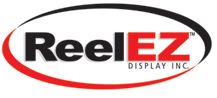 This 25% discount is only until the end of January 2013 and while supplies last.
Kwun Tong, Kowloon (PRWEB) December 31, 2012
Your chance to take advantage of tremendous savings from Reel E-Z Display has been extended. Two-pound Reel E-Z Display units are now on sale for 25% off until January 31, 2013. "I actually have a significant amount of stock on my 2-lb units because more of my customers are using the 5-lb units," said the head of sales earlier this year when the discount was announced.
For those unfamiliar with Reel E-Z Display, it is a system that allows for quick, easy and efficient ceiling signage changes. Unlike traditional methods where two or more employees would be involved to hold a ladder and haul an awkward, heavy sign to ceiling height, Reel E-Z Display utilizes a telescoping rod to pull signs down from the ceiling. The signs are on a retractable pulley system that self levels when raised up to the desired height. Once attached with the metal clips and set to the correct height, the sign self-levels to give your ceiling signage a clean, neat appearance. Each system extends to a maximum 10 feet to customize the height of the sign. The person changing the sign never leaves the floor and never has to raise the sign over their head. Only one person is needed to operate this ceiling signage system.
With the prevalence of workplace accidents and the resulting loss of revenue that can been seen in lost employee time, costly litigation fees, and medical costs, installing ceiling signage from Reel E-Z Display is a very savvy business move. It is a move that reduces ceiling sign changing time by 95%. Additional time savings are realized in that only one employee is required to use the system. Installing this ceiling signage is also a move that increases the safety of your patrons. When signs can be installed and checked at floor level, the danger of a sign improperly installed falling from the ceiling is greatly reduced.
These units are adaptable for most ceiling types including drop, open and drywall ceilings. An adaptor kit can be purchased separately to make the units work with different ceiling types. Swivel adaptors are also available. A conversation with the system's supplier will help you to determine which size and which adaptors are the best fit for your needs and for your ceilings.
Retailers that have already embraced the Reel E-Z Display system include: Walgreens, Big Lots, Publix, Tesco, Metro Canada, Filenes Basement, Orange Australia, Target Australia, Motorola Mexico, Verizon, Coles Australia, Walmart Canada, and McDonald's Canada.
If you have yet to discover this ladder-less, easy, cost effective ceiling signage system for business or retail chain, act now. This 25% discount is only until the end of January 2013 and while supplies last. Many of the world's most recognizable brands are already fans of Reel E-Z Display. It is time you discovered how this ceiling signage system can benefit you. Take advantage of this stock sale today. Not only will you save money, you will save countless hours of time while creating a safer workplace for your employees and patrons alike.
About the Author:
Reel E-Z Display is a retractable system that increases workplace safety along with the esthetics of suspended interior signage. Reel E-Z Display has several large contracts with retailers such as Family Dollar Store, Publix Supermarkets and Metro Stores. These products are suitable for all businesses, large or small, and can be installed in most ceiling assemblies. Search for Reel E-Z Display on Google: http://goo.gl/xT11d