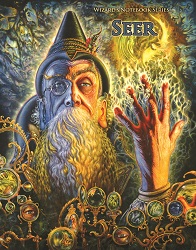 You can pick up a piece of art, but when the art picks you up and takes you someplace, that art is a Myles Pinkney.
Colorado Springs, Colorado (PRWEB) December 29, 2012
With the recent release of The Hobbit Movie, LowryGlobalMedia.com predicts a boost in wizard art interest. When The Lord of the Rings movies came out years ago, Myles Pinkney saw a big increase in the number of people interested in his Wizard and Faerie artwork. Now that The Hobbit movie series is underway, he and LowryGlobalMedia.com are anticipating a renewed surge in Wizard artwork popularity.
To prepare for the newfound Wizard art popularity, LowryGlobalMedia.com and Myles Pinkney have created the Wizard's Notebook Series. Each notebook contains 104 lined pages for writing down notes and can be used at the office or in the classroom. There are six different Wizard covers to choose from that will suit the tastes of any Wizard fan. The Wizard cover art is all original artwork by internationally known artist Myles Pinkney. The Wizard's Notebook Series is available now from online booksellers all over the world in every imaginable currency.
Mark Schumacher the President of Lowry Global Media LLC offers a New Years message to customers. "Thank you! I am so grateful to those of you who are making Lowry Global Media a success. Our success is a reflection of the success of Myles Pinkney, the artist who's stunningly beautiful art of Wizards, Dragons, and Faeries adorns the covers of our products. I personally find it very rewarding to support someone like Myles Pinkney who is a full time artist. His art has the ability to stir emotion. Isn't that what it is all about? You can pick up a piece of art, but when the art picks you up and takes you someplace, that art is a Myles Pinkney."
About Lowry Global Media LLC
Lowry Global Media LLC is a publisher of iPhone and iPad Apps as well as Print and eBooks. We are very proud to feature the artwork of Myles Pinkney, which is like no other. Myles paints realistic renderings of imaginary subjects. His color palette choices and mind blowing details make his art truly unique and world class. Many of his pieces have taken years to complete. Myles Pinkney's art can be found adorning homes throughout Europe, Asia, North America, and Australia.
Lowry Global Media LLC is dedicated to pursuing the dream. Be inspired, find your dream, succeed, and all along the way be grateful.