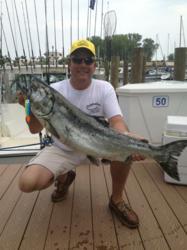 St. Joseph, Michigan (PRWEB) December 30, 2012
Pier 33 Marina of St. Joseph, Michigan will sponsor three free fishing seminars at the upcoming 2013 Progressive Insurance Chicago Boat, Sports and RV Show at McCormick Place in Chicago, IL.
Captain Jerry Link of Originator Sportfishing Charters will conduct a Lake Michigan salmon fishing seminar, with a presentation targeted towards both beginners and experienced big lake fishermen.
The seminars will be presented at the Pier 33 Pursuit Boats display, Booth 3444 on Saturday January 12 at 11 am & 3 pm and Sunday January 13 at Noon.
There is no charge to attend the Pier 33 fishing seminars. Boat show admission is $12 for visitors over the age of 15, free for 15 & younger.
Boat show visitors can learn about the basics needed to rig their first big lake boat and the essential information they'll want to know to catch fish the very first time out. Experienced Lake Michigan fisherman will hear about the latest trends & tips from one of the Lake's very best, Captain Jerry Link.
Pier 33 is a dealer for Pursuit Boats, one of boating's most well-known builders of premium-quality outboard powered fiberglass family fishing boats, center consoles and cruisers. In conjunction with Center Pointe Yacht Services of Wisconsin, Pier 33 will be displaying six new Pursuits at this year's boat show.
The 2013 Progressive Insurance Chicago Boat, Sports & RV Show will be held January 9 thru 13. For more show information visit: http://www.pier33.com/boatshows.