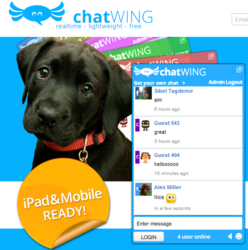 Miami, FL (PRWEB) December 29, 2012
Chatwing has recently advanced to communities that are dedicated for moms of all ages. Recently, the Chatwing team has noticed that mom communities are growing because of new approaches to active parenthood. Most of these approaches are useful and Chatwing extends its help by releasing an interactive chat widget for moms. Now, moms will be able to engage in informative communication while expanding social networks.
Everyday, thousands of topics are often discussed in a Chatwing chatbox. These topics depend on the niche of the host website or ideologies presented by visitors. Moms can visit a Chatwing chatroom and just share their thoughts about a certain topic. The Chatwing team has noted that the most common topics are responsible parenthood, kid education, and recreational activities for pregnant women and even best sexual techniques for moms.
Moms can even join new communities with the help of Chatwing's chat widget. Through social media integration, Chatwing's visitors can log in with their social media accounts. Moms can join communities in Facebook and Twitter. Alternatively, they can create communities of their own while looking for people.
Chatwing's chatbox will also be introduced to other famous online niches. The Chatwing Development Team is planning to roll out this massive expansion in weeks. Before the expansion, however, the Chatwing team will create more upgrades to keep the chat platform more reliable than ever.
About Chatwing.com
Chatwing.com specializes in the new field of website chat. Over years, the Chatwing team has introduced live chat widget for hundreds and thousands of blogs. The Chatwing application bridges people from many parts of the world, creating global synergy through the Internet. The shout box can be installed in just seconds, and it can be used for varying purposes such as leisure and Internet marketing. It also allows a user to customize the size, color, and name of the widget.