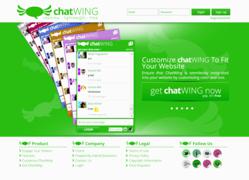 Houston, TX (PRWEB) December 31, 2012
The importance of social media is highly emphasized in the latest version of the Chatwing chat widget. Recently, the development company has improved its social media functions to serve more users at a better rate. In this recent chat app version, users can now customize the colors and sizes of widgets independently. As an added bonus, users can upload background images to keep the chatroom more interesting.
Chatwing's chat widget has a quick and easy installation mechanism. The first step is website domain registration. Following that is the customization process. In this next step, the user can modify the appearance of the chatbox. He can set colors, sizes, and many factors to keep the widget as enticing as possible. Admin parameters also allow the user to set word filters, add moderators, and create unlimited chat boxes for future use.
Chatwing's chat software has been used for many online purposes. One of the most common purposes is social media marketing. Social media marketers have used Chatwing app's global connectivity strength to connect with many people across the world. This has helped the marketers generate leads that can be turned into warm market contacts.
Because of the feedbacks gathered by the Chatwing Development Team, the company is planning to push out for more developments. These upgrades are necessary to keep the Chatwing shoutbox more stable and efficient than ever. The company is also planning to expand in different online sectors to help more people engage in informative and entertaining online chat.
About Chatwing.com
Chatwing.com specializes in the new field of website chat. Over years, the Chatwing team has introduced live chat widget for hundreds and thousands of blogs. The Chatwing application bridges people from many parts of the world, creating global synergy through the Internet. The shout box can be installed in just seconds, and it can be used for varying purposes such as leisure and Internet marketing. It also allows a user to customize the size, color, and name of the widget.