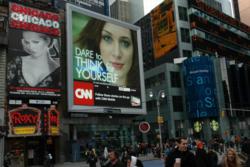 Dare to think for yourself, to look for yourself, to make up your own mind, because in the eternal debate for answers the one thing that's true is what's true for you
New York, NY (PRWEB) December 29, 2012
The new Scientology ad, "Knowledge," has begun airing 16 times an hour on the "Spectacolor HD" digital billboard on Times Square. The ad is visible to the estimated 370,000 pedestrians and 115,000 drivers/passengers who walk or drive through Times Square each day and will be playing December 31 when an expected 1 million attend this year's New Year's Eve celebration.
The ad challenges viewers: "Dare to think for yourself, to look for yourself, to make up your own mind, because in the eternal debate for answers the one thing that's true is what's true for you."
Also featured on the Scientology website and the Scientology YouTube video channel, the "Knowledge" ad will appear on prominent websites and prime time TV programs over the next several months, an invitation to "the curious, inquisitive, the seekers of knowledge, to the ones who just want to know about life, about the universe, about yourself" to find answers to the "big questions— the ones that matter" through Scientology.
About The Scientology Religion
The Scientology religion was founded by author and philosopher L. Ron Hubbard.
The first Church of Scientology was opened in the United States in 1954 and the religion has expanded to more than 11,000 Churches, Missions and affiliated groups, with millions of members in 167 countries. Learn more at http://www.Scientology.org