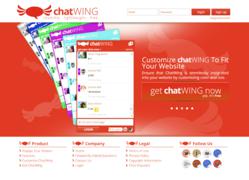 Seattle, WA (PRWEB) December 30, 2012
Chatwing Development Team has recently launched a chat widget that can be used as ultimate Facebook leveraging tool. In this latest chat widget version, the developers have emphasized that social media connection will become easier and users can now make friends easily. The Chatwing chatroom can be installed to any website or can be used as a stand-alone chat program. Its latest innovations are focused on wide customization, admin flexibility, and website visibility enhancement.
The act of Facebook leveraging has been one of the most important factors in the World Wide Web today. Based on the research done by Chatwing's developers, thousands of entrepreneurs are now conducting businesses through Facebook. Apart from that, Facebook pages and groups are always filled with people and delicate information. Chatwing's chat box can help the average social media marketer create a strong foothold in Facebook. The effect is doubled if the marketer maintains a certain website.
Once the Chatwing chatbox is installed to a website, it has the capability to enhance the website's online presence. The Chatwing tool does this by creating an avenue of communication between visitors and the website owner. A Chatwing chatroom can accommodate thousands of visitors at the same time. They can also use their Facebook accounts to log in, so the leverage is definitely high.
Facebook leverage is a very important factor that must not be neglected by online marketers today. Chatwing's chat widget is ready to extend that leverage to many people, especially online marketers who are new in the business. Chatwing's developers will also continue putting in more upgrades to ensure the overall stability of the shoutbox.
About Chatwing.com
Chatwing.com specializes in the new field of website chat. Over years, the Chatwing team has introduced live chat widget for hundreds and thousands of blogs. The Chatwing application bridges people from many parts of the world, creating global synergy through the Internet. The shout box can be installed in just seconds, and it can be used for varying purposes such as leisure and Internet marketing. It also allows a user to customize the size, color, and name of the widget.
# # #