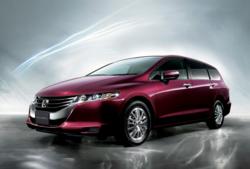 Honda's core philosophy is "Respect for the Individual."
Oakdale, LA (PRWEB) December 31, 2012
Honda Corporation was chosen because 50 years ago the corporation created its first automobile the T360. During this era there were such occurrences as The Civil Rights Movement, The Flower Power (Hippie Movement), The Black Power Movement and The Anti-War Movement. Ironically, the issues that plagued this era, exist in our world today. Therefore, it appears as though the message of love was never rendered. SBNTV1 and One Hundred Dollar Media thought saluting the time period of Honda's stepping into the automobile industry along with remembering the historical events of this time period, seemed only fitting for the message of love campaign to be re-invented.
Honda Corporation displays unconditional love through their auto making designs, with their passion to build a better, safer, more dependable automobile while keeping their prices affordable. This quality truly displays love for their customers; as well as, for all its Honda Team. Passion and love is what advocates us to higher levels of achievement in life, rather it be personal or professional. "Honda's core philosophy is "Respect for the Individual." This means that they recognize and respect individual differences in one another, that they treat each other fairly, and that they establish relationships built on mutual trust."
The New Honda 2013 lines are a true expression of love for the environment, your family's safety, energy conservation, technology and the world's economic future. Honda has implemented new features and upgrades on all of its products being offered as standard features. This type of passion made it easy for One Hundred Dollar Media's Production Team to tell Honda's story with love, because Honda already has it in their DNA.
SBNTV1 and One Hundred Dollar Media did not overlook all of the other automakers around the world. We know they share the same level of passion and commitment as The Honda Corporation. "We chose Honda because, Honda's business model was the perfect fit for what One Hundred Dollar Media and SBNTV1 represents. We hope that every corporation, person, church, mother, father, boy and girl will unite to become a part of this movement of love, sending the message of love around the world," statement shared by Jay and Yolanda Sumlin Executives of One Hundred Dollar Media and SBNTV1.
Today's message of love is greatly needed; because, some of the same issues of the 1960's still exist today. Wars, Civil Rights, violence – both domestic and abroad; seem to have run rampant. It is time that corporations, governments and citizens say we have had enough and start to take action. Pointing blame does nothing to change these results. It is time for us all to take a stand and fight against these inequities. We have had enough of the division, injustice, hatred and senseless killing in our world today. We hope everyone would share our message of love; because love is the only weapon to defeat all evils.
SBNTV1, One Hundred Dollar Media, The Grille Restaurant Memphis, TN and Talking with Evelyn (Evelyn Coleman) Show will be sponsoring a New Year's Eve Celebration. We will be airing music, videos and some live footage from the '60s to the present. Performances from such artist as Harold Melvin & The Blue Notes featuring Teddy Pendergrass, Diana Ross, Marvin Gaye, Eric Clapton and a very special video historical moment of Mr. Elvis Presley Funeral in Memphis, TN, 1977. Airing Monday 7:00 pm EST; on http://www.sbntv1.com.