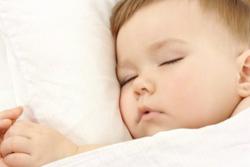 The biggest culprits hindering child sleep include relying on sleep props, inconsistent length for the bedtime routine and keeping the children awake too long, causing overtiredness.
Chicago, IL (PRWEB) December 31, 2012
According to an analysis of a sampling of 2012 Sleep Training Solutions clients, the biggest culprits hindering child sleep include relying on sleep props, inconsistent length for the bedtime routine and keeping the children awake too long, causing overtiredness.
Results from a sample of parent questionnaires for 45 babies and toddlers were examined and tabulated (0-3 months: 4 babies, 3-6 months: 14 babies, 6-12 months: 13 babies , 1-3 years: 10 toddlers, over 3 years: 4 toddlers). This follows a general trend that parents are more likely to seek professional help for their children's sleep issues between 3 months and 3 years of age.
Findings from the data include:

91% of parents read at least one sleep training book before hiring a professional sleep consultant (62% read 2 or more)
Pediatrician recommendations for child sleep problems: 44% suggested "cry it out", 27% had no specific advice, 24% proposed check and console (5% offered alternative options)
76% of the babies and toddlers were fed, rocked or held to sleep
76% had 3 or more night wakings (98% had at least one night waking)
100% of the children showed signs of overtired during the day and before bed
87% of the children relied on 2 or more sleep props to soothe themselves to sleep (bottle/breastfeeding to sleep, car or stroller rides, sleeping in the swing, rocking, pacifier)
84% of the children had a bedtime routine that was too long (or in some instances, too short)
47% experienced early wake-ups (waking before 6:00am)
87% of the babies and toddlers took short naps (less than 45 minutes)
Kim Schaf offers these suggestions to parents to get their children sleeping better in the new year. First, parents should encourage their children to fall asleep independently, without relying on sleep props. "Sleep props include feeding to sleep, rocking to sleep, sleeping in the swing, going for a car or stroller ride, needing to pop the pacifier in every 45-60 minutes," said Schaf. "Anything you feel you need to do for your child to get him to fall asleep is a sleep prop." Second, ensure that the bedtime routine is long enough to send the message that it is time to settle down and get ready for sleep, but not so long that the child loses focus of the end goal. 20-30 minutes is the ideal length for a bedtime routine. Lastly, parents should watch for signs of overtiredness in their children and put them to bed (or down for a nap) within the appropriate timeframe. Overtiredness in children can be exhibited by hyperactivity, so children who look "wide awake" at bedtime have become overtired.
According to a study published in Pediatrics earlier this year, children will not necessarily outgrow sleep issues if they are not addressed. "Teaching your child healthy sleep skills from an early age is so important for their health, behavior, learning and mood, and the sooner parents start, the easier the process will be," explained Schaf.
For more information about this data or to get information about a personalized baby or toddler sleep plan, please contact Kim Schaf at Kim(at)SleepTrainingSolutions(dot).com or (847) 386-6285.
About Sleep Training Solutions
Sleep Training Solutions, a leading infant and child sleep consulting company, provides education and training to parents in the Chicago area and across the country through private and semi-private consultations, seminars and overnight support. Sleep problems that can be resolved include issues with bedtime, nightwakings, naptime and early rising in infants and children up through age eight. Find Sleep Training Solutions on Facebook and follow on Twitter @sleepbetterbaby.
About Kim Schaf
Kim Schaf, M.A.T., is the Founder and President of Sleep Training Solutions and the Midwest Regional Director (USA) for the Association of Professional Sleep Consultants (APSC) and offers expert guidance to resolve behavioral sleep issues for families across the country. She provides community education on child sleep issues, leading workshops at preschools, day care centers, pediatrician offices and new mom groups. She is also available to speak at corporations for their Corporate Wellness Initiatives. Kim has a Master of Arts degree in Teaching, is a Certified Rainbows Facilitator and is a member of the American Sleep Association, the North Suburban Children's Business Network and the Neighborhood Parents Network. She lives in a northern suburb of Chicago with her husband and two small children, both of whom are excellent sleepers.
Photo credit: © Serhiy Kobyakov | Dreamstime.com