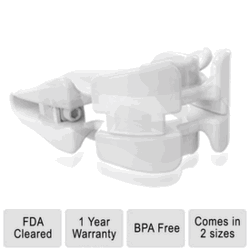 This is going to be my 3rd night using it and there is now peace in my marriage.
New York, NY (PRWEB) December 31, 2012
According to the latest customer reviews, the innovative stop snoring device, VitalSleep has obtained consumer approval. This FDA cleared mouthguard for snoring is a fully customizable and opens the airway to provide a snore-free night.
P.K from Fairfield, Connecticut offers his experience with owning VitalSleep and how it impacted his relationship and sleeping pattern.
"Thank you very much!!!! This sounds like a cliché and you have probably heard this from most of your customers - but your product WORKS!!! This is going to be my 3rd night using it and there is now peace in my marriage. Just so you know how bad my snoring was... last week, I was sleeping on a couch down stairs in our living room and the bed in our bedroom is basically above the couch on the second floor; my wife sleeping in our bed with an earplug, came down waking me up at 4.00am complaining I was waking her up!!! What was I supposed to say to her since at that time I was "only" sleeping and not doing much of anything else."
Snoring causes more damage to relationships than many people realize. Nearly 1 out of 10 couples experience a strain in their relationship due to one person's disruptive snoring. VitalSleep serves as an aid to lessen snoring capabilities by opening the airway creating a quieter breathing. The snoring mouthpiece comes in two sizing options: regular for men and small for women in order to provide the perfect fit for all mouth sizes.
P.K also discusses the fitting as well as replacement options with the product:
"Needless to say, now I am back sleeping in my bed next to my lovely wife and loving every minute of it. Also when I first got my product 3 days ago... when I mold the second mouth piece, I ruined it. I send and email and immediately got a reply stating you will be sending me a replacement free of charge. I just got the replacement today. I am very impressed with your customer service and your product. That being said, I highly recommend the product not only because it work and the price is right, but the phenomenal customer service I have just experience!
Rating for the company, the product, and the price is a BIG 5 Stars."
Another aspect of VitalSleep is that it carries an affordable price tag that includes free replacements during the one year warranty period. This snoring mouth guard works to help reduce breathing issues and avoid disruptive sleeping patterns. There is a number of risks associated with lack of good sleep, such a compromised immune system and even sleeping disorders. VitalSleep offers a customizable option to help people live a more rested lifestyle.
For information regarding VitalSeep please visit: http://www.vitalsleep.com./