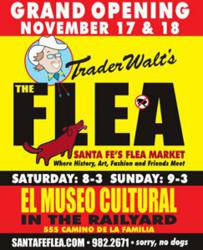 Santa Fe, NM (PRWEB) December 29, 2012
Santa Fe Collectors Gordon Micunis and Jay Kobrin are downsizing their collections at The Flea. Over the next three weeks - December 29 & 30 and January 5 & 6 and 12 and 13, Gordon and Jay will be offering some very interesting international masks from India, China, Bali, Nepal, etc. at all prices. Mr. Micunis and Mr. Kobrin will also be showing a group of "western" items like horn and antler pieces, Mexican vintage papier Mache figurines, a stunning antique tin candelabra, very important Mexican pottery and novelties, African and Moroccan handbags, animal trophies, assorted Native American and kitsch themed miniatures and salt shakers, and fabulous Mexican velvet hats. The Flea is a featured business in the SantaFe.com Business Directory.
Day Trading Begins at The Flea at El Museo in Room B, Jan 5, 2013 -
Starting Saturday Morning - January 5, and every Saturday and Sunday while the market is at El Museo - Room B will have 27 table spaces for Day Traders for $20 a day plus $1 for parking in the underground garage. Show up at 6:30 Saturday and 7:30 Sunday - get in line - and get a table, first come, first served. We will put the loading ramp down at 6:30 am on Saturday and 7:30 am on Sunday for you to load in. The ramp is closed when the market opens to the public; 8 am on Saturday and 9 am on Sunday - and the ramp re-opens to load out at 3 pm each day.
If interested day traders live more than 30 miles away they can email Trader Walt at walt at the flea dot com or call 505-982-2671 to reserve a table for either Saturday or Sunday, but requests for a specific table is not available. The Flea will only guarantee a space for the day. The space that is assigned to traders making an email reservation will be determined by what the place in line is for that morning's line. If a trader is a late arrival the assigned space will be whatever is left available.
This year day traders need to be aware that to stay in the same space from Saturday to Sunday the Sunday table fee will be $25.
All kinds of stuff are welcome at The Flea including yard sale stuff, "just flea stuff", crafts, art, antiques, books and shabby chic couture.
The Flea at El Museo Winter Swap Meet is offering a handful of 10'x10' spaces starting Jan. 5, 2013 for the remainder of the season. Summer vendors at The Flea at The Downs south of Santa Fe and first time vendors that do not sell at Tesuque will be given priority for these spaces. If a prospective vendor is on the waiting list and is interested in a season space in the El Museo main room please email Norma Plemons at bear2184 at AOL dot com to indicate interest. If a new vendor is interested in being added to the waiting list for space in the main room at El Museo please email Norma Plemons at bear2184 at AOL dot com.
The Flea is now featured in the new Santa Fe magazine 'ECO Source' published by Trend Magazine. Trend Magazine's sister publication - ECO SOURCE - now in its second edition - features a full page ad for The Flea as well as an editorial mention.
About SantaFe.com:
SantaFe.com provides locals and visitors to Santa Fe alike the most current interactive platform for events, music, arts, business, dining and lifestyle. SantaFe.com is a division of Hutton Broadcasting, located at 2502 C. Camino Entrada, Santa Fe, NM 87507
Contact Information:
Scott Hutton
SantaFe.com / Hutton Broadcasting
(505) 471-1067 (Media inquiries only, please)