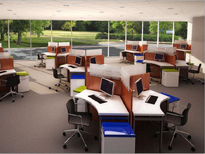 Why find space yourself when an expert can do it for you all over the world.
(PRWEB) December 30, 2012
Your Office Agent launched in 2009 with the ambition to be the largest specialist portal for outsourced workspace in the world. There are thousands of companies out there who specialize in workspace provision, from the large executive suite providers such as Regus to the vast array of coworking options currently sweeping the world. Your Office Agent originally wanted to list them all in one place and offer, not only choice but also expert advice at no charge, but due to high demand this ambition has expanded. With the professional workspace providers now listing over 3,000 locations, now local companies are starting to add their excess space to the portal, providing yet more choice and value for the consumer.
VP of Global Sales, Brian Mac Mahon added, that workplace demand has shifted in the last 10 years with technology, recessions, work life choices, high travel costs and the increasing measurement of our most valuable commodity, our time. This means that the days where companies just had one or two locations with an exact desk and staff size match was the norm are gone. Now companies looking for space want the same as Expedia or priceline provide for travel, total choice from the best options, at the right price, locally, nationally and globally and Your Office Agent do exactly that.
The success of the original concept is no surprise to industry insiders who feel that, with over 1 billion mobile workers in the world and workspace choice now ranging from virtual solutions to fully managed space and everything in-between, there is a need for a one stop shop for it all. Companies who are smart with their real estate and their people choices can save 20% to 60% on their total cost of occupancy. For further information about how to add your space to their listing service or how to search for space at no cost check out http://www.yourofficeagent.com or contact the team at contact(at)yourofficeagent(dot)com or 800 600 0881.