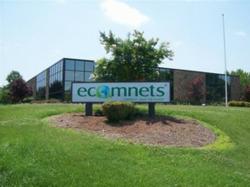 We can save health care organizations months of paperwork and hundreds of thousands of dollars because we have already expended those resources to become HIPAA Security Rule-compliant," said Raj Kosuri, CEO of EcomNets
Herndon, VA (PRWEB) December 31, 2012
EcomNets, a leading managed hosting and co-location infrastructure provider, has received HIPAA certification, making it one of the few hosting companies eligible to provide information technology services to health care organizations who must meet strict new federal patient security and confidentiality standards.
HIPAA is the Health Insurance Portability and Accountability Act, passed in 1996. The HIPAA Security Rule establishes national standards to protect individuals' electronic personal health information that is created, received, used, or maintained by a covered entity. The Security Rule requires appropriate administrative, physical and technical safeguards to ensure the confidentiality, integrity, and security of electronic protected health information.
HIPAA Security Rule-compliant IT services are essential for the more than 2 million firms and nonprofit entities in the U.S. that deal with health care and must comply with the new federal regulations on how they handle electronic information about patients.
"We can save health care organizations months of paperwork and hundreds of thousands of dollars because we have already expended those resources to become HIPAA Security Rule-compliant," said Raj Kosuri, CEO of EcomNets. "By utilizing our managed hosting and co-location offerings, our clients can take advantage of a significant cost savings and attain peace of mind knowing their organization is backed up by a HIPAA compliant hosting partner."
Health care organizations can become HIPAA compliant themselves or can outsource their electronic handling or hosting of patient information to a firm that is HIPAA compliant, such as Ecomnets. Ecomnets' data center has recently passed a vigorous audit by a Certified Information System Security Professional to ensure that the company meets HIPAA security and certification standards.
"One of the reasons that we sought to become fully HIPAA Security Rule-compliant IT was to be able to help health care clients and their organizations meet these stringent federal regulations," Kosuri said. "Providing IT services for businesses so they can focus on their core competency is something we have done for many years and will continue to do for the health care industry."
The U.S. Health care industry is evolving. Healthcare business leaders continually seek more cost efficient uses of their limited resources; as they try to meet ever increasing security and protection for patient and healthcare organization data requirements. An average healthcare organization can save more than $100,000 a year by outsourcing its IT functions rather than developing them in-house functions, according to Forrester Research.
Becoming HIPAA Security Rule compliant is a natural progression for Ecomnets, which recently also achieved its Capability Maturity Model Integration (CMMI) Level III certification. Ecomnets has a reputation for its emphasis on security and a firm financial foundation that allows it to invest in the kind of technology required to meet such stringent federal regulations.
Ecomnets' data center has state-of-the-art security systems; a robust network built with redundant, diverse segments to maximize up time and thwart most denial of service attacks; back by a team of highly skilled professionals with industry leading experience.
About EcomNets
EcomNets is a world class provider of Sustainable IT Solutions and Cloud Solutions. EcomNets understands the need for Cloud Security, Cloud Back Up, and Disaster Recovery. EcomNets has a data center located in Danville, VA to meet all your cloud needs. We are a CMMi level 3 software solution provider with the experience and technical know-how to deliver customized solutions and support. We'll enable you to respond faster to changing market dynamics by delivering high-quality, cost-effective, and seamless solutions that add value to your business. Our collaborative business experience and solutions include data center, cloud back up, disaster recovery, cloud security, and more. EcomNets develops and markets virtualization-based software and hardware solutions that deliver superior desktop computing.