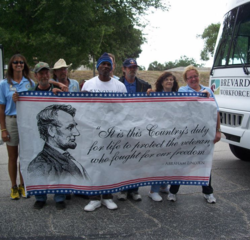 "We know what works", said Taylor, "Community partners working together for our veterans is the key. We are looking forward to a great 2013 for our veterans here in Florida."
Brevard County, FL (PRWEB) December 30, 2012
NVHS is a non-profit organization on a mission to end homelessness among veterans. Under that mission, the organization has been successfully organizing Stand Downs in Brevard County, Florida since 2008. Now expanding into other counties and communities who are willing to step-up to help veterans in need, NVHS Stand Down Grants will fund new partners throughout the entire state of Florida who meet the requirements.
Becoming available in August of 2012, NVHS has already approved seven partner organizations for the grants and has the capability to fund an additional eight to ten partners in 2013. Stand Down events qualify for $5000 per day, not to exceed $15,000 under the grant and are being approved for between one and three day events.
Groups from Ocala, Sarasota, Tallahassee, Ft Myers, Ft. Walton Beach, Pensacola, and Palmetto, Florida have all successfully gained approval. Of the seven, three have already held their Stand Downs and four remain scheduled between January and June of 2013.
"Seeing our outreach expand and being able to help other communities who share our vision is so awesome," states NVHS President and Founder George Taylor. "We know the benefits to our veterans, and seeing others take up the charge all over the state is exactly what we hoped for."
The anticipated goal through the NVHS Stand Down grant offering is for four thousand homeless veterans throughout the state of Florida to gain assistance and much needed help between August of 2012 and June 30th of 2013.
NVHS' Stand Down funding is a non-competitive grant awarded on a first-come, first-served basis, until available funding is exhausted. Special Priority is being given to applicants in areas of Florida with a significant homeless veteran population which is not currently served by a Stand Down.
When asked what he wanted others to know about this opportunity, Mr. Taylor stated, "If you are involved in veteran support, have ties in your community to veteran support organizations and have been wondering how you could make a difference, here is your answer. It took us years to gain enough funding to be able to hold a proper Stand Down, and to be able to offer that now to others who want to make an impact is a true honor. We need good people who support veterans to act together in their communities to make a difference- and we are in a position to help. We are really looking for individuals and organizations to come forward, so we can fund their efforts and help more veterans."
Stand Downs are typically one to three day events, depending on the size and need in the community, in which multiple community-based organizations collaborate to offer services to homeless veterans in need. Services provided vary, but include food, clothing, health screenings, VA and Social Security benefits counseling, survival gear, and referrals to a variety of other necessary services such as employment, housing, and substance abuse programs that may be available in the area.
Stand Downs have been an integral part of outreach to homeless veterans since the first recorded event in San Diego in 1988. Generally held in areas of high homeless veteran populations nationwide, these events bring all the community partners, resources, and help into one accessible venue- and have successfully served hundreds of thousands of veterans and their families in their time of need.
With 2013 on the way and grant money still available for new NVHS Stand Down partners, organizations across Florida with a heart to help are encouraged to apply now.
Complete information is available on the NVHS website with a detailed RFP and application. Applicants should submit the required information as soon as possible, as the Stand Down events to be funded should be held on or before June 30, 2013 and can take multiple months to plan.
"We know what works," said Taylor, "Community partners working together for our veterans is the key. We are looking forward to a great 2013 for our veterans here in Florida."