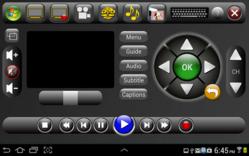 For less than the price of a cup of coffee, this app provides dual functions both as an entertainment and business utility tool.
North Vancouver, BC (PRWEB) December 31, 2012
TouchSquid Technology Inc. is pleased to announce the international release of its Media PC Wireless Keyboard/Mouse Android App,(available on Google Play the Amazon App store), for remote control of a Powerpoint presentation or Windows PC Media Center.
The Media PC Wireless Keyboard Mouse app easily replaces two hardware devices, the wireless keyboard mouse and the Powerpoint remote (each of these devices cost approximately $20 to $30 each). For less than the price of a cup of coffee, this app provides dual functions both as an entertainment and business utility tool.
Remote control of your PC through a wireless keyboard mouse over WIFI means that the presenter can move freely across a room, start, pause or stop a Powerpoint presentation. The app supports a full set of Unicode characters which means it can be used with most non-English language keyboards including French, German, Swedish, Dutch, Portuguese, Spanish, Italian and many more……
This flexible wireless keyboard mouse app can also be used to control a PC Media Center. Technology innovations such as high-powered home computers, digital media and high definition televisions give rise to the Home Theater PC (HTPC) or PC Media Center. By definition, a HTPC or PC Media Center is a convergence device that combines the capabilities of a personal computer with a Home Theater software application. With a Media PC, one can watch, record and pause live TV; browse the internet, access PC library of movies, music and games, play DVDs and CDs on TV.
There are wireless keyboard and mouse combinations that can be used to control the Media PC, however, they tend to be big and cumbersome for use while watching TV from the bed or couch. Other PC media remote control hardware devices only have ON/OFF commands.
Using TouchSquid Media PC Keyboard/Mouse App, a user can now conveniently access his/her Windows PC Media Center using an Android Smartphone or tablet. The TouchSquid Media PC Keyboard/Mouse Android app comes in two parts. This remote works with Microsoft Windows operating systems and requires the Touchsquid server app, free to download from http://www.touchsquid.com/MediaPC .
TouchSquid Media PC remote control sends command information wirelessly through the wifi network connection. This app gives the user full keyboard and mouse control so it can be used with any Windows PC, for surfing, email, online messaging and even gaming. The friendly Media Center on-screen menus are specially designed for remote control interaction, such as pause and rewind live TV, record an entire TV episode, series, or category; Shuffle an entire music collection according to artist or genre. Browse the internet for information about a favorite show, celebrity or movie. Tune in FM stations and even pause live radio. Browse, zoom, pan, or print pictures by using the remote. The lit screen and big buttons on the Android device makes it easy to work the remote in the dark.
About Touchsquid Technology Inc.
TouchSquid Technology Inc. is located in North Vancouver, BC, Canada. Its flagship product is the TouchSquid all-in-one infrared tv remote control. The company has also developed a number of Android Apps, the most notable being the TouchSquid Remote Control App, for use with generic tablets in combination with an external IR blaster device. Media PC Keyboard/Mouse is a new product release and integrates neatly with the TouchSquid remote control apps, both Home and PRO versions.