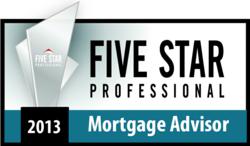 Dean and Debra are exceptional loan officers. Clients often write to us to share stories about how our Advisors have gone above and beyond on their behalf.
San Diego, California (PRWEB) December 31, 2012
Samuel Scott Financial Group is proud to announce that Dean Brown and Debra Roberts, two of our expert Mortgage Advisors, were recognized as 2013 Five Star Mortgage Professionals. The exclusive Award was given to less than 7% of loan originators in the market, a clear testament to Brown's and Roberts' outstanding work.
Five Star Mortgage Professional Award 2013"I'm very glad to have Dean and Debra at Samuel Scott. They are perfect examples of first-class service and honest transactions" said Russ Schreier, Managing Director for Samuel Scott.
Now entering its fifth year, the Five Star Mortgage Professional program awards candidates that have been nominated directly by consumers for their exemplary service. The program, which is the largest and most widely published mortgage professional award program in North America, requires nominees to satisfy five objective eligibility criteria. The five areas of evaluation are: customer service; integrity; communication; preparation and attention to detail; and overall satisfaction.
Additionally, respondents are asked if they would recommend the mortgage professional to a friend. Brown and Roberts, both of whom receive dozens of glowing reviews each year, find that much of their success is a result of client referrals. "Dean and Debra are exceptional loan officers. Clients often write to us to share stories about how our Advisors have gone above and beyond on their behalf," said Schreier. "They both have fantastic reputations and are well known through out North County San Diego."
Brown, who has decades of direct experience working in and around the real estate sphere, is exceptionally strong with the residential lending process. He considers himself a professional consultant, and helps clients understand every part of their loan, payment, equity, and cash flow objectives.
Roberts excels in communication and her ability to expertly guide clients through smooth transactions. With her "clients come first" attitude, Roberts became the Rookie Loan Officer of the Year in 1991 and maintained her position as the #1 loan officer for more than 12 years.
Samuel Scott Financial Grou p is distinguished for having a team of Mortgage Advisors with extensive loan experience. If you share our passion for excellence, then let's talk about the career opportunities you can find at our growing company. Contact Russ Schreier to learn more. 858.436.1187
About Samuel Scott
Samuel Scott Financial Group is a boutique mortgage company recognized for superior customer service and the way their Mortgage Advisors tailor the residential loan process to fit each individual client. Consistent and reliable, Samuel Scott Financial Group has been selected as The Best Mortgage Company in San Diego for the 6th straight year by readers of local publications. In 2012, the San Diego Business Journal recognized Samuel Scott as one of The Best Places to Work in San Diego and they were named on Inc. 5000′s list of the fastest growing companies in the nation.