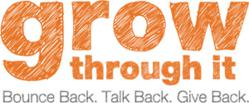 We are hardwired to tell stories, to listen to stories and to learn from stories.
New York, NY (PRWEB) December 31, 2012
In every life and throughout life, there are setbacks, challenges and personal losses that require us to go through and grow through them. These may include: losing a job, a family member, not getting in to the college of your choice, getting divorced, living with an illness, surviving a natural disaster, or loving someone who doesn't love you back.
Grow Through It is an online storytelling community created as a forum for those who have experienced any of life's challenges, rebounded from the adversity, and want to share their unique stories with an online community.
Grow Through It's tagline: Bounce Back. Talk Back. Give Back. describes the site's storytelling process. The videos (or texts) are produced by people who have bounced back from difficult experiences; through their stories, they narrate what happened and how they got through it. In the process, they give back to others by describing what they learned and how others going through similar situations might learn from them.
Since everyone has a unique way of experiencing life's challenges, bouncing back from certain experiences may be easier for some than for others. Watching, listening and learning can begin the process of navigating through challenging times.
Visitors to Grow Through It are encouraged to provide feedback to the video posts and even interact with other participants.
"We are hardwired to tell stories, to listen to stories and to learn from stories," says site creator CJ Lonoff, principal at the lecture agency Speaking Matters. "I hope that Grow Through It provides an outlet for individuals to share their personal stories of bouncing back, for others to learn from their experiences, and for both to help create an online community that celebrates the resilience of the human spirit."
What better way to start the New Year. Share your story on Grow Through It. Bounce Back. Talk Back. Give Back. Go to: http://www.growthroughit.org