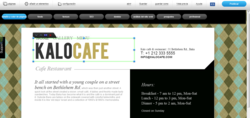 (PRWEB) December 31, 2012
IM-Creator, founded to make building a top quality website as simple as possible, is one of the most popular website builders available today; more than one and a half million individuals and enterprises have taken advantage of it to create their own websites because it is so easy to use, even for beginners. The number of users is growing all the time, and IM-Creator's development team is determined to make its services accessible to as many people as possible. To that end, IM-Creator is now available to new users in Spain and other Spanish speaking countries.
Spanish users will discover that, like existing users in other parts of the world, IM-Creator is simplicity itself to use. It eliminates the need to hire expensive website designers, yet provides sophisticated and professional results, whatever the genre. A comprehensive selection of templates, including a huge range of photography templates, covers all classifications, and provides something for every type of website; there is an option to start with a blank canvas, too, if preferred. The design team is constantly developing new templates, and even releases seasonal collections of new themes based on what is currently trending worldwide. One happy user is Los Angeles-based band, Supershine, whose members say 'When we were looking to build a website, we had a certain vision in mind. As an LA band, we wanted a clean, edgy and professional website. Browsing through the templates, we fancied the 'TYPO light' template, and chose it as a base for our website. Since we did not have a lot of initial content, the simple one-page structure suited our needs and allowed us a simple and clear display of our art'.
IM-Creator illustrates just how versatile website builder it is by displaying a monthly categorized collection of websites that have been created with it, with links to each one so that the potential user can see immediately just what he will be able to create for himself – a first-class easily-affordable website that will be the perfect backdrop for his wares and services.
Websites created with IM-Creator have a high-end designer look yet are created with a simple interface, and a powerful drag-and-drop website editor; no website building experience or technical skills are necessary because IM-Creator has already done all the hard work. Users simply customize their sites with their own videos, text, pictures, and maps, and reassuring customer support is available via email, community forum, tutorials, and FAQs, so that they can get help should they need it. The aim is simply to make IM-Creator's unique but simple website building expertise available to everyone, and this now includes new users in Spain.
For Spanish users looking to build a designer-quality website with the minimum of fuss, IM-Creator's new venture fits the bill nicely. As the development team says; users can 'Create a Website – a simple and elegant website builder (and it's free)'.