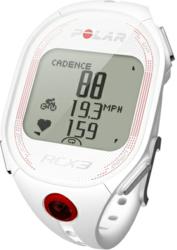 In our experience and testing Polar has always been the most accurate brand for calorie data and they are better integrated than any other brand with gym equipment
Bozeman, MT (PRWEB) December 31, 2012
The following is a list of the five best heart rate monitors for weight loss compiled by the Heart Rate Watch Company. What constitutes a good heart rate monitor for weight loss? A heart rate monitor that measures both calories and calories from fat, along with the capability to manage zone intensities with alerts.
While most all heart rate monitors on the market today measure total calories, only a Polar heart rate monitor helps to measure both total calories and calories from fat. "In our experience and testing Polar has always been the most accurate brand for calorie data and they are better integrated than any other brand with gym equipment", says Rusty Squire, President of the Heart Rate Watch Company.
#1 - Polar FT80 - This watch offers strength training features for weight lifting, does calories total and fat calories, contains lots of advanced training features and offers one of the most sophisticated gym watch exercise platforms available anywhere.
#2 - Polar FT60 - This heart rate monitor watch offers all the same features as the Polar FT80 minus the strength training program and comes in both men's and women's styles.
#3 - Polar FT40 - This watch offers a fitness test and does calories total plus calories from fat along with visual and audible zone alerts.
#4 - Polar RCX3 - offer the fitness test and calories like the FT watches but it also offers GPS and compatibility with all of Polar's higher end sensors for running and biking. This was our favorite new women's model for 2012 as it is small, light and offers a great fit.
#5 - Polar RCX5 - this watch does all the calories info but can be used for triathlon, so for those with serious desires to cross-train at multiple sports it is a good bet.
"All of these watches allow the user to use Polar personal training software to catalog daily activities, calories and exercise to help meet weight loss goals", says Squire. He adds, "For a limited time through January 2013 we are going to give all customers two free fitness books that help with weight loss and targeting the right methods to insure success".