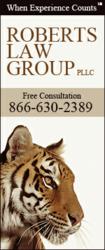 Experienced DWI Defense In Raleigh, Durham, Wilmington, Charlotte and Throughout North Carolina
Raleigh, NC (PRWEB) December 31, 2012
It may have taken three trials, but North Carolina defense lawyer Jesse Scharff never gave up on his client's rights. Seasoned DWI defense attorney Jesse Scharff of Roberts Law Group, PLLC, earned a not guilty verdict at trial, saving his client from a mandatory minimum sentence of one week in prison.
The first trial took place in 2011. A judge found the client guilty after a bench trial. Jesse Scharff appealed the verdict to the Superior Court within a week. A jury trial was then conducted in October of 2011. Despite a majority of the jurors voting not guilty (9-3), the group could not reach unanimity. A hung jury and mistrial were declared after two days of deliberations.
The District Attorney's office continued to press the drunk driving charge and a new trial was scheduled. According to court documents, the DA called a Field Sobriety Test Expert as a witness in the third trial. Jesse Scharff, an experienced DWI defense and trial lawyer, moved to sequester the state's witnesses during trial. By separating the state's witnesses during each other's testimony, Scharff was able to ensure that the testimony of each witness was not influenced by that of any other witnesses.
As noted in court documents, the state's Field Sobriety Test Expert testified as to the proper way to conduct a field sobriety test and explained the standard to be used in field testing by law enforcement officers. When the arresting officer took the stand, by his own testimony, he failed to reach the testing standard established by the state's own expert.
In less than an hour of deliberations, the jury returned a unanimous "Not Guilty" verdict. The client avoided a mandatory minimum seven day sentence and drunk driving conviction.
At Roberts Law Group, PLLC, our criminal defense attorneys fight for the rights of the accused throughout North Carolina. With offices in Raleigh, Wilmington and Charlotte, our experienced lawyers offer a free initial consultation to anyone facing criminal charges including drunk driving, sex offenses, drug crimes, white collar crimes or other felony or misdemeanor in the North Carolina state or federal criminal justice system . When experience counts, put Roberts Law Group on your side.
For more information about Roberts Law Group, PLLC, please visit the firm's criminal defense website and criminal defense blog. Jesse Scharff is a skilled criminal attorney who defends against sex crime charges, DWI charges, assault charges and others in Wake County and the surrounding areas. To contact criminal lawyer Jesse Scharff, please contact the law firm online via our website or call 866-630-2389 for a free consultation.