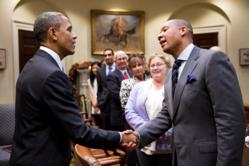 As business owners we get tunnel vision of our own businesses but hearing from the other CEO's in the room, each from various industries, gave me an holistic prospective of how catastrophic the fiscal cliff could be for the country as a whole.
Los Angeles, California (PRWEB) December 31, 2012
Los Angeles, CA - December 29, 2012: As the owner of a rapidly expanding construction company, based in Baton Rouge, Louisiana, Keith Tillage has always maintained that one should always 'expect the unexpected.' But even while being awarded the PTAC HUBZone Business of the Year, the U.S. Small Business Administration's 2012 Region VI Minority Small Business Person of the Year, and as a finalist for the 2012 Black Enterprise Small Business of the Year Award, Keith Tillage, the owner of Tillage Construction, was not expecting a call from The White House.
The call from a White House Secretary was an invitation for Tillage, also received by 14 other distinguished small business owners, to discuss fiscal cliff fears at a summit with President Obama and Vice President Joe Biden at The White House. "I was excited about meeting the President but more honored that I had been chosen to weigh in on this historic issue for our country" humbly divulged by Tillage.
The President, Vice President Biden, Federal Reserve Chairman Ben Bernanke and Senior Advisor to the President Valerie Jarrett all listened keenly to the insights of all the entrepreneurs. While the prominent political leaders in the room listen so did the other entrepreneurs, gaining insight into the hardships faced by other industries. It was during the summit Tillage recognized that "As business owners we get tunnel vision of our own businesses but hearing from the other CEO's in the room, each from various industries, gave me an holistic prospective of how catastrophic the fiscal cliff could be for the country as a whole." Subsequent to the fated meeting, Tillage would go on to assert that "If you believe in the democracy of our country as I do, then you have to trust your elected officials and trust the fact that they understand this is not a democratic or republican issue but an American issue."
Like President Obama, Tillage remains hopefully optimistic and acknowledges that "By expanding my business with a regional office in Dallas Texas, I gambled on this administration getting this issue resolved prior to the meeting and after actually speaking with the heads of government and business… I feel even more confident in not only their ability but willingness to get it done!"
ABOUT TILLAGE CONSTRUCTION: Since 2000, Tillage Construction has experienced significant growth as one of nation's fastest-growing, 100% minority-owned construction companies. Tillage Constructions expertise ranges the full gamut of commercial construction services, with all employees dedicated to exceptional customer service from project acceptance to project completion. For more information please visit http://www.tillageconstruction.com