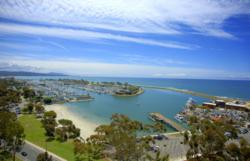 These three indicators are a big sign that the housing market in Orange County is back in full swing" according to Smith
Dana Point, California (PRWEB) December 30, 2012
The Dana Point Real Estate Market Forest for 2013 has just been released by Dana Point Realtor Sam Smith who works in the Dana Point, California area. Smith is a long term resident in the area and has been watching the market very closely for his clients.
"The Dana Point Real Estate market has changed a great deal this year" according to Smith. "We've seen a major reduction in the home inventory, a 60% decline in all of Orange County with home prices increasing approximately 7% this year. The home mortgage loan rates remain at historic lows and average around 3.5 - 4%. These three indicators are a big sign that the housing market in Orange County is back in full swing" according to Smith.
Due to the shortage of homes on the market, the well priced homes under $1,000,000 are getting offers very quickly and do not last on the market for more than 2-4 weeks. Homes over the million dollar price point are taking slightly longer to sell but are selling if priced correctly. Location and view are some of the strongest selling points in addition to price for these homes to sell quickly. The closer you are to the beach or the better the view you have are big selling points in Dana Point.
What do we expect to see happen to the Dana Point real estate market in 2013? After the holidays are over we should see a bump in the home inventory. Every year January tends to be one of the busiest months in the year no matter if we are in a down market or a strong market. Buyers who are motivated typically start making offers in the first part of the month. Prices should continue to rise modestly especially in the lower price ranges which have been hit hard by distressed properties in the last couple years. It should be noted that many banks are letting agents know that a large supply of short sale listings will be coming on the market in the next year. Expect to also see an incremental increase to home loan rates probably rising over the year to the 4 – 4.25% level. In addition, an increase in the number of transactions throughout the year, as more people feel secure about the economy and housing.
About Sam Smith: Sam is a real estate broker who has sold real estate in the Dana Point community for over 12 years. His commitment and understanding of real estate values have made him one of the most influential agents in the area. Sellers who would like to know their home value should call Sam Smith for a correct number on current market values. Please visit http://www.danapointrealestate.com or call 949-606-4144 today.