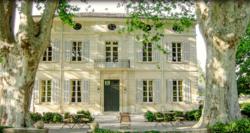 Aubignan, Provence, France (PRWEB) December 30, 2012
Every journey to experience the pleasures of the South of France requires visitors to make a connection with Provence—its people, culture and beauty.
And no trip to this magical region would be complete without an extended stay at Domaine Le Vallon, a luxurious manor house, located in Aubignan in the Vaucluse --the heart of Provence.
The owners, Michèle and Fred Vogt, have taken great care to decorate each of the accommodations in Provençal style, selecting antiques and special items from their extensive travels. Close attention to even the tiniest details helps transform their well-appointed bed and breakfast/guest house into a memorable stay. Guests can choose from the Suite/Apartment, an independent living experience in what was the gatekeeper's house, or from three other stunning and individually decorated rooms with wonderful views of the lush grounds. All accommodations have modern bathrooms and a host of thoughtful amenities.
Spring and early summer (April – July) and also September are among the best months to experience Provence.
In addition to enjoying the resplendent comfort of Le Vallon and the surrounding countryside, guests find the location beneficial for half-day or longer excursions to some of the most inviting and noted villages, towns and cities in France.
Just 30 minutes by car is Isle Sur La Sorgue. This visit is a must for anyone interested in browsing for antiques. Visitors will be astonished by the variety and quality of the items. Also just 30 minutes away is Avignon, where the Palace of the Popes attracts visitors daily. Avignon is a larger city with many fine restaurants, cafes, museums, and points of interest. And there are other towns and villages to explore. Based on each visitor's interests, the Vogt's, your hosts, will gladly help plan itineraries, pointing out "not-to-miss" and "off-the-beaten path" places to visit.
The advantage of making Le Vallon "home base" is that guests come back from their excursions to a relaxing, countryside atmosphere in which to stroll through the extensive vineyards, enjoy the saltwater swimming pool, converted from an old outside wash-house, and use the outdoor dining area to prepare the Mediterranean delicacies brought back from shopping at one of the many local village markets.
A collection of hilltop villages are within 30 minutes drive as well and offer both historical and cultural interest. At the top of one of these hilltop villages is Lacoste and the castle of the infamous Marquis de Sade. Another of these villages, Gordes, is often referred to as one of the most beautiful in France. Located in the lavender-producing area called Lubéron, popularized in the writings of the contemporary British author Peter Mayle, they are definite "must-sees." Rousillon, famous for its ocre, is also a definite stop on the itinerary. Imagine walking on the ocre colored ground and remembering the impressionist paintings and their generous use of this color.
And just one hour from Le Vallon, guests will visit Aix-en-Provence, a regional cultural and university city; Arles, known for its Roman Aqueduct and as the last residence of Vincent Van Gogh; and Marseille, named the European Capitol of Culture for 2013. There are many other compelling destinations within a one-to- two-hour drive of Le Vallon, including the Mediterranean Coast.
To learn more and to book a stay at Domaine Le Vallon, go to:
http://www.vallon-provence.com/
Media Contact: Charlotte Novom| Novom Marketing Inc. | 714.941.9799