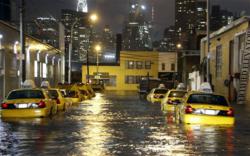 Excellent and informative presentations by well credentialed and credible experts. A job well done. Time well spent.
Washington, D.C. (PRWEB) December 31, 2012
The Security and Sustainability Forum convenes global experts to assess the impacts on society from climate and other disruptions to natural systems. Its webinars address many of the world's most pressing topics and attract an international audience of senior professionals, decision makers and the public.
Its webinars are recorded and access is free through a free membership program. Membership is free and registration takes only a few moments.
The webinars feature leading experts in the security and sustainability field including:

Charles Godfray: Director, Oxford Martin Programme on the Future of. Food, Oxford University
Lindene Patton: Chief Climate Product Officer, Zurich Financial
Jeb Brugmann: ICLEI founder
Lynn Scarlett: Former DOI Deputy Secretary & Co-Director of Resources for the Future's Center for the Management of Ecological Wealth
Rowan Douglas: Chairman, Willis Research Network
Tracy Mehan: Former EPA Office of Water Assistant Administrator, and Cadmus Group Principal
Eugenie Birch: Co-Director Penn Urban Institute for Urban Research
Blair Ruble: Program Director for Comparative Urban Studies, Woodrow Wilson Center
Lykke Leonardsen: Department for Strategy in the Centre for Parks and Nature Director, Copenhagen
Alan Kelley: Co-author of Food Security in a Global Economy.
Video topics include:

Adaptation and Security in a Changing Climate
Increasing Collaboration to Build a Sustainable Future
Food and Water Adaptation in a Changing Climate
Managing Economic Vitality in a Changing Climate
Urbanization and Growth on a Finite Planet
Food Security in an Urbanizing World
Economic Vitality in a Changing Climate
Raising Water Resource Awareness in the Next Generation
GSA's Green Buildings Priorities
Growing Your Business Through Corporate Sustainability.
Please take advantage of the opportunity to learn from the experts and alert your colleagues. http://www.securityandsustainabilityforum.org/membership
The next SSF webinar is on January 24th, 2013 from 1; 15 to 2:45 PM EST is on Governing Climate Change: Shifting Priorities in Urban Decision Making. Register here for the webinar.
About the Security and Sustainability Forum
SSF is a public interest, membership organization that hosts free, live educational webinars. Sessions feature panels of global experts who address human health and welfare impacts caused by climate change and other environmental disruptions. The webinars outline how sustainable approaches to minimize environmental stresses can reduce instability and conflicts, thereby improving the physical and economic security of humankind. Our programs seek to not only educate our audience about sustainability and how it fits into their areas of interest and work, but also spark new ideas about resilient approaches and solutions.