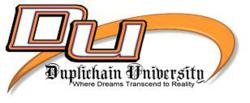 Lake Charles, Louisiana (PRWEB) December 31, 2012
Duplichain University held its 4th Annual Intensive Institute in Opelousas, Louisiana on Dec 16th, 2012. The purpose of the Institute was to welcome new students and provide an overview of institutional outcomes and program outcomes for those interested in obtaining a Ph.D. in Education and Criminal Justice. The institute provided a strong foundation for learning research and service through intellectual growth, self-understanding, and respect for diversity. Continuing students were introduced to a keynote speaker, Dr. Ashraf Esmail, to discuss the importance of Internal Review Board/Human Subjects as they prepare their dissertation proposals.
Duplichain University is a global online learning institution offering undergraduate and graduate degrees in Education and Criminal Justice. Duplichain University offers an innovative learning approach in a supportive, nurturing and flexible academic environment. Students enrolled in Duplichain University develop, refine, strengthen, and enhance their skills in a discipline of their choosing, while maturing academically, intellectually, and personally.