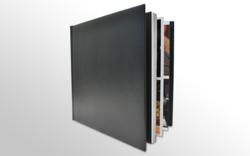 Palo Alto, Ca (PRWEB) December 31, 2012
In an effort to be on the cutting edge of the wedding album industry, Bridebox, a leader in direct brides do it yourself wedding albums releases new wedding album packages.
"By creating these unique wedding album packages, we are passing the savings onto the modern DIY Bride" says Bryan Passanisi, Bridebox marketing. Each package has something special to offer in addition to our best selling Anza 30 Leather wedding album. Within each wedding album package we offer the bride a unique product, whether it be a custom wedding guest sign in book or a mobile wedding photo app that allows all wedding guests to become personal photographers; each item will bring a innovative modern flare to the brides wedding. The Wedding Album Packages include the following:
The Bronze Special – Anza 30 Leather Wedding Album and a Free Ashbury Guest Sign In Book.
The Silver Special- Anza 30 Leather Wedding Album and a Free mobile wedding app.
The Gold Special- Anza 30 Leather Wedding Album, an Ashbury wedding guest sign in book and a wedding photo app
For more information regarding the wedding album packages, please visit http://www.bridebox.com/specials
About BrideBox
Bride Box is devoted to helping couples design their own wedding albums without sacrificing the top quality materials and photo finishing that mark a professionally produced album. BrideBox combines years of wedding photography expertise and a proprietary process that gives consumers access to products previously only available through photography professionals. The BrideBox line of wedding albums offers unmatched quality, combining the benefits of technology with the skills and individual attention of imaging professionals. BrideBox is a division of DigiLabs, Inc., a privately-held company that creates superior photo products available through professional photographers. For more information, go to http://www.BrideBox.com .