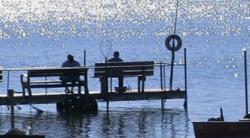 A video may be more operative than a business card or half-minute conversation.
Brandon, Minnesota (PRWEB) December 31, 2012
In addition to the benefits that most chambers offer - such as frequent meetings and social mixers, conferences, and directories – the Osakis Chamber of Commerce Board is working with the video production staff of Lakes Country Living to create short video profiles of member businesses. The videos will enhance an updated chamber website, and can also enhance the businesses' individual marketing efforts.
It started last summer, when acting Chamber President Phil Reed read an article in the National Chamber Review, asking the question "Are Chamber Product Lines Obsolete?" It pointed to video as a necessary tool in a chamber's arsenal that can foster progress, especially if younger audiences are desired. Reed felt inspired to offer a fresh new benefit to the membership, and invited Stephen Henning, producer and host of Lakes Country Living, to speak at the next board meeting. He had known Henning for several years, and was familiar with how he covered small business stories on television.
Lakes Country Living is a half-hour made-for-cable video magazine featuring stories of out state Minnesota. Hosted by Stephen Henning, a nationally acclaimed landscape painter, the show's topics usually include the arts, agriculture, Main Street entrepreneurs, local history, natural resources and outdoor recreation. Particular attention is given to conveying local flavor.
The Board liked Henning's risk-free proposal, and gave its nod of approval. Participating members receive a 2 to 3 minute video produced by Lakes Country Living staff, in which they can tell their own story – enhanced by music and professionally filmed video footage. The video is posted to the Chamber's YouTube Channel, linked to its website and may be used by members as they wish. DVDs are provided, upon request. Since August eight videos have been produced, and the variety of businesses is indicative of the Chamber's diverse membership.
The very first video to be completed was for Galeon, a community-owned nonprofit senior housing and healthcare campus and one of the largest employers in Osakis. "We're proud of the successes Galeon has had and I was very happy to have this short video overview of the organization to share with the audience when I presented at the World Congress on Active Ageing held in Glasgow, Scotland, last summer," said Dave Carlson, Administrator. "The video does a great job of showing the passion that our staff brings to the workplace. That's so much more effective than just one person speaking before an audience, saying some of the exact same things."
Other business videos completed so far include: County Line Marine and Storage – small engine repair and storage facility, Buck Point Resort – one of the few family-owned resorts remaining on Lake Osakis, Tip Top Dairy Bar – a thriving little drive-in that is a destination in itself, Phil Reed Insurance – a one-man agency, Just Like Grandma's – seasonal gift shops and possibly the only tea-room in west central Minnesota, Lind-Rite Precision – ISO-certified manufacturer of precision machined parts, and Osakis Country Club – a beautiful 9-hole course that's open to the public.
As videos are completed they are uploaded to a dedicated YouTube Channel. "The Lakes Country Living crew has been very easy to work with," said Reed. "In addition to producing these videos at an aggressively discounted rate, they have built the YouTube Channel and even produced a short Chamber of Commerce video at no charge. They want us to succeed." With the exception of gathering some interior shots and editing work, the filming has been suspended until late spring. With a chamber membership of almost 80 businesses, both outgoing Chamber President Reed and Henning anticipate there will be more videos to make in the next eight months. After all, smiles Henning, "the video camera and the videographer work better when it's not too cold."