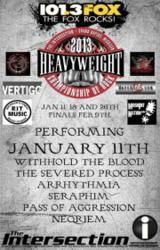 The annual clash of the most brutal musicians, bringing together metal bands, metal fans and local business.
Grand Rapids, MI (PRWEB) December 31, 2012
Showcasing 18 of the best local heavy metal bands in MI, the 13th annual Heavyweight Battle of the Bands is set to kick off on January 11 at The Intersection.
Sponsored by MoshPitNation and 101.3 The Fox's Metal at Midnight , this annual clash of the area's most brutal local musicians brings together metal bands, metal fans and local business like no other in Michigan. An estimated 3500 people attended the 2012 shows, and that number is expected to grow in 2013.
The audience selects 2 winning bands at each of the 3 preliminary rounds. They go to the finals and compete for $2500 in cash and tons of prizes, including recording time from Darkwave Audio, Tattoos from Forever Ink, gear from RIT Music and more.
Band line up for 2013 Heavyweights:

Jan 11 Withhold the Blood, The Severed Process, Arrhythmia, Seraphim, Pass of Aggression, Neqriem,
Jan 18 Deleted by God, Condition: Critical, Lakeland, Divided They Fall, Flood the Desert, Through the Ashes,
Jan 26 Silent Lapse, Hand of Uziel, I'm William Cutting, Aside the Ashes, Burden of Ages, Drawing Down the Moon
"This show has become a cornerstone of the local music scene in West Michigan. With many of the small clubs that held local metal shows slowly closing their doors, The Intersection has remained constant in their support of local music through The Heavyweights, and other concerts.", says Jimmy Rains, promotions director at The Intersection.
MoshPitNation founder Jen Lorenski, adds "The interest in the music is there, and metalheads are a strong bunch, determined to play their music and get to shows. It's evident by some of the MI bands breaking through to the national level. We support heavy metal around here. It's more than just music, it's a community. That's what MoshPitNation is trying to do, support the music at the local level, all over Michigan."
Other things happening at this year's Heavyweights

The Intersection
Located in downtown Grand Rapids, The Intersection has been providing West Michigan with the best local and national live music for over 40 years. As an entertainment, live concert or nightclub venue, The Intersection will bring satisfying sounds to every mind, body and soul. The comfortable atmosphere at The Intersection is like no other place in West Michigan. It's a place you can enjoy a cool drink for happy hour, an intimate concert at The Stache or quality night of entertainment in the Showroom. 118 Grandville Ave SW, Grand Rapids MI 49503 SectionLive.com
MoshPitNation
A grassroots, metalhead movement in Michigan, MoshPitNation spread the word about all the heavy metal shows in West and East MI, from the local band shows at the corner bar to big national concerts. The MI Metal Concert calendar helps bands promote their shows, and fans know where they're happening. MoshPitNation also has a line of t-shirts and heavy metal gear and will be spearheading new efforts to grow the local music scene in 2013. MoshPitNation.com
101.3 The Fox (WBFX)
Classic rock for your generation, 101.3 The Fox (WBFX, Grand Rapids MI) plays hard rock from the 80s, 90s and 00s and features the weekly Metal at Midnight radio show hosted by John Serba. The Fox is sponsoring The Heavyweights for the 2nd year in a row and will feature radio spots and online promotions of the show. 1013TheFoxRocks.com