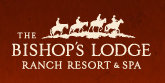 Santa Fe, New Mexico (PRWEB) December 30, 2012
Santa Fe landmark destination resort Bishop's Lodge Ranch Resort & Spa has been delivering the goods to visitors and locals when it comes to great accommodations, food and fun since 1918. From 8 p.m. to 12 a.m.., Monday, December, 31, 2012, Santa Fe destination resort Bishop's Lodge Ranch Resort & Spa has scheduled the Latin fusion band Manzanares New Year's Eve Party for both local and visiting New Years Eve revelers. This is a CD Release New Year's Eve Party with the band playing a wide selection of Latin, Rock & Roll, and dance numbers along with songs from the its new CD.
New Year's Eve Party includes: light snacks, party favors and Champagne toast at Midnight.
First 100 tickets sold have access to the band pre-concert, private reception and will be notified via email before the event.
Tickets will only be available online only. Ticket price includes $5 off the new Manzanares CD.
Santa Fe, NM's premier on-line visitor guide SantaFe.com, has this event listed on the company's event calendar.
Ticket Info
Purchase Tickets Online
Per Person: $30 + $4 service fee
Per Couple: $50 + $6.50 service fee
About Bishop's Lodge Ranch Resort & Spa:
A Time-Honored Classic among Santa Fe Hotels and Resorts
A destination unlike any other, our resort in Santa Fe, New Mexico offers upscale ranch lodging and endless four-season recreation. Enjoy clear, sun-drenched days exploring our 450 acres of scenic trails from horseback riding, hiking and mountain biking. Surrounded by the soft scent of piñon, relax and rejuvenate in the private SháNah Spa gardens with Native American inspired treatments. Bask in the warm glow of a traditional kiva fireplace under a blanket of stars to savor our Nuevo Ranchero culinary cuisine.
Experience an authentic Santa Fe, where colorful reminders of nearly four centuries of Spanish, Native American, and Southwestern cultures endure. The first Archbishop of Santa Fe, Jean Baptiste Lamy was drawn to the natural and tranquil beauty of the Tesuque Valley where he established La Villa Pintoresca, his private retreat and chapel. As an integral part of Santa Fe's history, Bishop's Lodge is dedicated to preserving Archbishop Lamy's history, Chapel (recognized on the National Register of Historic Places) and the tradition of his renowned, generous and gracious hospitality.
Ranked by Travel & Leisure magazine, The Bishop's Lodge Ranch Resort & Spa is truly one of America's premier retreats. As a secluded sanctuary just minutes from the city's famous Plaza, our award-winning Santa Fe hotel exhilarates the soul of Santa Fe in a stunning setting.
Contact Information
Bishop's Lodge Ranch Resort & Spa
Address: 1297 Bishop's Lodge Road
Phone: (505) 983-6377
About SantaFe.com:
SantaFe.com provides locals and visitors to Santa Fe alike the most current interactive platform for events, music, arts, business, dining and lifestyle. SantaFe.com is a division of Hutton Broadcasting, located at 2502 C. Camino Entrada, Santa Fe, NM 87507
Contact Information:
Scott Hutton
SantaFe.com / Hutton Broadcasting
(505) 471-1067 (Media inquiries only, please)