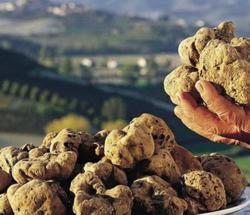 "Consumers who enjoy white truffles should buy white truffle mushrooms now, as the flavor and aroma are at the peak."
Reno, Nevada (PRWEB) December 31, 2012
According to Mirepoix USA, a leading online purveyor of specialty gourmet foods and traditional French foods, white truffles will continue to be available for purchase in early January. White truffle season frequently ends in late December; however, this year, the best quality white truffles have been found during the last two weeks of December. Aromatic and highly flavorful white truffles are expected to continue to be available until mid January.
Mirepoix USA founder, Laurel Pine explains, "The availability of white truffles is dependent on weather conditions in the truffle growing regions. Italy, the primary source of the prized white truffle (Tuber Magnatum Pico), was hot and dry during the summer and early fall, which led to an unusually low supply of white truffles during the months of October and November. The specimens found early in the season lacked the intense aroma and flavor usually associated with white truffles. However, in late December, fully mature, flavorful white truffles have been available. Consumers who enjoy white truffles should buy white truffle mushrooms now, as the flavor and aroma are at the peak."
White truffles are creamy white to tan colored and have an aroma that exceeds even that of the black Perigord truffle. Much more rare than black truffles, and impossible to cultivate, white truffles are the most expensive of all the tuber-like fungi. Katherine Alford, author of Caviar, Truffles and Foie Gras, stated in her informative cookbook, "A top quality freshly dug white truffle will perfume an entire room, can be smelled on the street through a closed window, and is an extraordinary dining experience".
Prices for white truffles range from $200 - $400 per ounce, according to Mirepoix USA. Pricing is determined by supply and demand, and prices generally change weekly. Large specimens are priced higher because they are much more rare. Most white truffles are approximately half an ounce per truffle. A one-ounce truffle is about the size of a golf ball and will serve 4 – 6 people.
Mirepoix USA founder, Laurel Pine, recommends serving white truffles raw because the intense flavor and fragrance is lost if the truffles are cooked. Fresh white truffles can be shaved on pasta, risotto, potatoes, eggs, or any bland base. White truffles pair well with poultry or other white meats such as rabbit or veal as well as with hard Italian cheeses, prosciutto and salami. Wines such as a fine Chateauneuf du Pape, Brunello, or a California Pinot Noir make a splendid pairing with white truffles. Consumers desiring assistance with wine pairing should contact Mirepoix USA and their wine partner, Porthos, directly.
Mirepoix USA sources the highest quality specialty gourmet foods and traditional French foods from manufacturers and importers across the United States. The company currently offers over 40 foie gras selections; fresh truffles including summer truffles, Burgundy truffles, Perigord black truffles and Alba white truffles and well as truffle based products; French charcuterie, and a wide selection of caviar. In recent years the online retailer has expanded product offerings to include Wagyu and US Kobe beef, French cheeses, and gourmet gift baskets and gourmet food.
To purchase fresh white truffles from Mirepoix USA, visit http://www.mirepoixusa.com or call 866-992-9559.