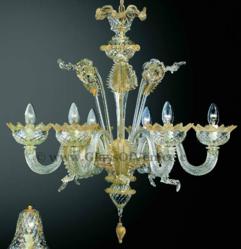 We are proud to announce that we entered into partnership with several artisans to offer our clients the best assortment of high quality Venetian Chandeliers for every taste and wide variety of budgets.
(PRWEB) December 31, 2012
GlassOfVenice.com, the online provider of authentic Murano Glass imported directly from Venice, Italy, has always been committed to being the one and only destination for all Murano Glass seekers. To reach this goal, the company has been continuously increasing its already wide range of authentic Murano Glass to the delight of all Murano Glass Art fans worldwide. The latest addition is new Murano Glass Chandeliers from some of the best chandelier makers in Venice.
Classic Venetian chandeliers are not merely light fixtures; they represent the unique fusion of famous Murano craftsmanship, Venetian artistic heritage, history, and culture and are one of the best examples of Murano Glass Art. These beautiful chandeliers first started to grace the ceilings of famous Venetian palazzos in early 1700's and quickly became the envy of all the visitors to Venice. Merchants and nobility alike wanted to have this new kind of chandelier, created not of heavy iron and wood but of gorgeous colorful glass, which made the candle flames brighter and the interiors richer. Intricate floral designs, elaborate twisted leaves, elegant curving arms, and unique translucent glass made these opulent chandeliers stand apart from all other kinds of lighting that has been used before them. Indeed, we can say that the famous Venetian chandelier of the eighteenth century set the stage for modern lighting fixtures.
With its desire to showcase and make available the best in Venetian glass-making, it was only natural that GlassOfVenice.com searched the Island of Murano far and wide to find the most experienced glass-makers who offer high quality traditional craftsmanship at reasonable prices. The company is now proud to announce that it entered into partnership with several such companies to offer its clients the best assortment of high quality Venetian chandeliers for every taste and a variety of budgets. The clients purchasing their chandelier at GlassOFVenice.com will get not only the original designs and outstanding quality, but will also benefit from the company's direct dealings with the glass-makers and from its exceptional U.S.-based customer service.