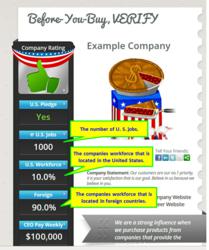 If the nation goes over the fiscal cliff more than 2 million jobs will be lost and unemployment will rise from 7.7 to 9.1 percent in 2013.
Hawthorne, California (PRWEB) December 31, 2012
Senators are racing to hammer out an agreement today to prevent the fiscal cliff, which increases taxes and makes automatic spending cuts - less than 24 hours away. Even more alarming the Congressional Budget Office (CBO) reported that going over the fiscal cliff will result in a net loss of an estimated 2 million jobs and unemployment would rise from 7.7 to 9.1 percent by the end of 2013. This disturbing news has caught the attention of college students who belong to an organization called SaveOurWorkforce which monitors the number of middle class jobs in America. 
Going over the fiscal cliff has college students across the country concerned about their future job prospects. "I am really worried about finding a middle class job after graduation so I can payback my student loans", says Ross Mazzolini, a student at Texas Tech University. Another student Stephen Sisley at Brevard Community College in Florida explains "Many bright young people are graduating into poverty because they cannot find jobs and this fiscal cliff is a major setback to an already fragile job market." Recent hiring news seem to validate these young people's concern as Delta Airlines just reported receiving 22,000 applications for just 300 job openings. "America's youth want a brighter future and we need our elected officials in Washington to avert the fiscal cliff by decreasing our national debt and keeping taxation reasonable so we can rebuild our middle class." says Mario Palma, a student at El Camino College.
To help increase middle class jobs, young people have created a website, called SaveOurWorkforce.org, to allow consumers to easily lookup how many U.S. jobs a company provides. SaveOurWorkforce gives each company a rating by tracking the number of jobs a company offers in the United States and foreign countries to determine a workforce percentage. Students also provide a report card on the overall health of the U.S. workforce. "We believe it's important to track how many jobs a company provides to U.S. workers compared to the number of jobs provided to foreign workers" says Nestor Crespin, a sophomore at Loyola Marymount University.
SaveOurWorkforce created a database to store information about the American workforce by company. It provides public access to its database through a free website tool "Before-You-Buy, Verify". This tool makes outsourcing visible to consumers and empowers them to direct their purchases towards companies that support the U.S. workforce the most. Prior to making a purchasing decision, a consumer can compare the U.S. workforce size of multiple companies and direct their purchase to the business that is providing the most U.S. jobs to American families. "Together we can rebuild the U.S. workforce and create a brighter future for us all", says Austin Mazzolini, a high school student at California Academy of Math and Science. People who are interested in becoming members can sign up at http://SaveOurWorkforce.org.
About SaveOurWorkforce
SaveOurWorkforce is a nonprofit organization with the mission to save and rebuild the American workforce. Founded in 2012 by high school and college students, the organization encourages the involvement of students, individuals, and companies throughout the country at their website http://SaveOurWorkforce.org. Students (13 years and older) are asked to join and track the company workforce sizes in their area. Individuals (the 99%) are asked to join and use the free tool "Before-You-Buy, Verify" which empowers consumers to direct their purchases to companies that support the U.S. Workforce the most. Companies are also asked to join and partner with the youth to help keep jobs in America at http://SaveOurWorkforce.org.