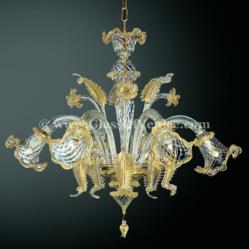 The latest addition to www.GlassOfVenice.com is an exclusive range of beautiful Venetian chandeliers from the best glass-makers on Murano Island.
(PRWEB) December 31, 2012
GlassOfVenice.com, with its extensive experience in direct import and distribution of authentic Murano Glass continues to impress Murano Glass lovers worldwide with its wide selection of high quality artistic glass objects. The latest addition is an exclusive range of beautiful Venetian chandeliers from the best glass-makers on Murano Island. Elaborate and unique, these chandeliers represent Venetian artistic heritage and legendary Murano craftsmanship and will be the highlight of any interior design.
Murano Glass chandeliers are some of the most famous examples of Murano Glass Art with centuries of history and the tradition of exquisite design and fine craftsmanship. First Murano chandeliers were produced on the Island in early 1700's and quickly reached worldwide popularity with even the kings of remote lands lining up to order these artistic lighting fixtures. Elaborate floral motifs, fine details, and rich colors often accented with gold characterize a classic Venetian chandelier. Chandelier-making is the most complex and labor-intensive form of Murano Glass Art. A typical classic Murano Glass chandelier features several tiers and many elaborate decorative elements, some of which may take days to complete. Every little piece of the chandelier is created separately by hand and then added to the whole, often according to a complicated custom design. Large chandelier pieces require special furnaces, which cannot be installed in smaller glassworks. For these reasons there are not too many chandelier-makers left on Murano, many of them having shuttered their doors due to difficult economic conditions, and those that remain often command very high prices.
With its commitment to providing the very best in authentic Murano Glass to its discerning customers, GlassOfVenice.com formed partnerships with the glass artists who not only offer a big selection of high quality chandeliers at the right prices, but will also work with custom designs. Catering to the desires of interior designers and affluent customers planning their residences, GlassOfVenice.com will gladly work with customers' own detailed sketches to create any design they wish, and will even be able to add other lighting fixtures such as sconces, floor or table lamps in the same design to complete the look. The clients purchasing their chandelier at GlassOfVenice.com will get not only the beautiful artistic fixture of the highest quality rooted in Venetian history, but will also benefit from the company's direct dealings with the glass-makers and from its exceptional U.S.-based customer service.