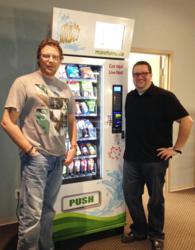 It's great to be able to provide a healthier snack alternative for our employees …
James Gushnowski, Newcap Radio
Vancouver, BC (PRWEB) December 31, 2012
Canadian Healthy Vending's Edmonton distributors, Terry Evans and Jodie Chernoff, discovered the Max! program after noticing the lack of nutritious choices in local vending machines. "Anyone should be able to find a mid-afternoon snack easily, but does it always have to be junk food?" asked the couple. Terry is currently the host of K-97's The Terry, Bill and Steve Show, rated Edmonton's #1 Morning Radio Show. He and Jodie have been married for 15 years and have two children.
Jodie, like most mothers, does her best to give their kids the healthy nourishment they need. She found out about Max! Canadian Healthy Vending on the Internet. The two were glad to find an option for people who want to re-energize without the junk food "crash": the Max! Canadian Healthy Vending Machine with its many nutritious, more health-conscious choices.
"After some research, we flew out to Vancouver to meet Shaun and Ed, the owners of Canadian Healthy Vending. We originally planned on starting with three machines, but after seeing their vision, we ordered five. After less than a month with our initial five Max! Machines located, we ordered five more because response was so overwhelming," said Terry.
One of Terry and Jodie's locations is Newcap Radio in West Edmonton Mall, Alberta. Employees of four radio stations have access to the Max! Machine at Newcap. "We are starting to see our employees utilize the Max! Machine more, even in the period of time we have had it. It's great to be able to provide a healthier snack alternative for our employees so they are productive all day long." James Gushnowski, Program Director, Newcap Radio, Edmonton, Alberta
Helical Pier Systems in Sherwood Park, Alberta, also has one of Terry and Jodie's Max! Healthy Vending Machines. Helical does piling and engineering at a wide variety of locations, from residences to oil fields. "We have started a company-wide Health and Wellness Program for our staff and the Max! Healthy Vending Machine is a welcome addition to our initiative." Tanya Kasprick, Operations Administration, Helical Pier Systems Ltd., Sherwood Park, Alberta
Terry and Jodie developed a website, Facebook and Twitter account to help in the marketing of their company, YEGMax! The hard work they put into the business as well as their dedication to providing healthy snack choices is paying off. They received a very positive response from both staff and students after placing a Max! Healthy Vending Machine in a junior high school. The couple found they had to re-stock the location daily.
About Canadian Healthy Vending
Canadian Healthy Vending is a Vancouver-based vending equipment manufacturer and distributor with over 23 years experience in the Canadian vending industry and is the manufacturer of the Max! Healthy Vending Machine. Our Mission is to get healthy snacks and nutritious drinks into the hands of Canadian workers and students in every city and province across the country. The state of the art Max! Healthy Vending Machine features both cash and cashless payment systems in addition to a high resolution display monitor, which provides nutritional information on product offerings, and information on community health initiatives. To get more information about Canadian Healthy Vending visit our web site. To find out how to get a Max! Healthy Vending Machine at your workplace see our location site at getmaxvend.com.