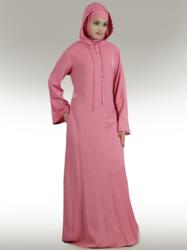 Any Size, Any Length; We Customize For YOU
(PRWEB) December 31, 2012
Since its beginning to the industry, MyBatua has made a niche in the market as an Islamic fashion store. On the website of the company, customers get a never before opportunity to discover a variety of designer & moderate range of Islamic clothing. This clothing range is an example of craftsmanship and designing excellence. The choice continues with traditional and modern Islamic clothing both for men and women.
http://www.mybatua.com provides a large selection of Jilbabs, kurtis, abayas and Hijabs for customers, with the choice of personalization. All the outfits shown at the current sale are developed to indicate unique design and fabrics. Islamic outfits at MyBatua are available with modern and very fashionable looks. Jilbabs and Abaya at the sale are also made from organic material and with modern structure.
Apart from the selection of Jilbabs, Abayas and Hijabs, customers also get huge choice to personalize outfits without any extra price. The items at the selling are now available with up to 60% off this season. These Abayas, Jilbabs and Kurtis may be personalized according the client's need without any extra price. Not only customers find an opportunity to shop for a wide range of Islamic outfits exclusively for Muslim women and men but also acquire price tag with never before discount rates.
The best part of the season sale at http://www.mybatua.com offers best variety of traditional Islamic clothing range for men and women who never bargain on quality and style. The sale features variety of traditional Islamic Abaya that designed with best workmanship.With every purchase at season, cash discounts are offered to the customers. MyBatua is extremely pleased to bring the best choices of stylish Islamic women outfits at reasonable prices. The store combines the latest international clothing range from the best and most sensitive embroideries and elaborations in trendy styles.
About MyBatua: MyBatua.com is one-stop destination on the web for a complete range of Islamic fashions for men, women and children. The online store offers a complete range of accessories such as handbags, purses, clutches, hijabs, scarves, stoles and much more.