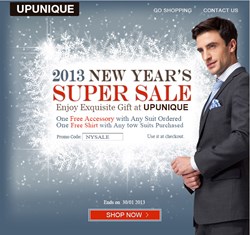 (PRWEB) December 31, 2012
With more than 20 years experience in the industry, UPUNIQUE, a reliable supplier of custom suits, has proudly introduced its promotion of custom men's suits, UPUNIQUE New Year's Sale, to show appreciation to all customers from Jan. 1 to Jan. 30, 2013.
Each online customer can get a gift when checking out by entering the coupon code of NYSALE (two suits for a free custom shirt, and one suit for free suit's accessories). In addition, UPUNIQUE provides free delivery service for all orders.
"Our custom suits have had a good market performance, and have greatly stimulated our business growth in the past years. Now, we are launching the promotion to show our appreciation to all our loyal customers. Thank you!" said, Leo Phang, CEO of UPUNIQUE.
The tailors from UPUNIQUE have much knowledge in fabrics, styles and patterns, so that they can always create the perfect attire for any situation, like business, casual, social and formal situation.
Custom menswear has been popular these years for its unique individuality and exclusive feeling. UPUNIQUE can help gentlemen to catch people's eyes in few seconds with its customized shirts and suits.
"Customers can make their choice and complete orders by following the simple directions on our website. With some clicks of a mouse, you can get a custom suit online. You can add your special requirements to your orders just as you would do in fitting rooms, and look forward to our incomparable custom dresses," continued, Leo Phang.
About UPUNIQUE
UPUNIQUE, located in the oriental fashion capital Shanghai, is a leading brand specialized in tailored suits on the European and American middle and high-end markets. UPUNIQUE aims to provide 100% fit commitment, 30-day unconditional refund and 80-dollar free dress alternation.
For more details, please visit: http://www.upunique.com