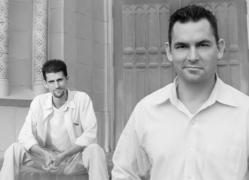 This is a big milestone for us. It's our 10-year anniversary, we're about to hit 10 million podcast downloads and we wanted to do something special for the listeners who have helped get us to this point. - Mark Edge
Keene, NH (PRWEB) December 31, 2012
Two of the youngest nationally syndicated talk radio hosts in the industry are celebrating a full decade on the air, and to commemorate the 10th anniversary of Free Talk Live they're showering its listeners with free swag. From today through the 15th of January, bumper stickers will be mailed out to anyone who requests one and special edition anniversary tee shirts will be given to AMP program supporters who donate $25/month to the show.
"This is a big milestone for us," says Mark Edge, co-host of Free Talk Live. "It's our 10-year anniversary, we're about to hit 10 million podcast downloads and we wanted to do something special for the listeners who have helped get us to this point."
Fancy tee shirts and bumper stickers aren't the only things Free Talk Live gives its listeners – the show also makes its archives available free of charge, something that's nearly unheard of in the radio world.
"Most talk shows want to charge their listeners any way they can," says Ian Freeman, co-host of Free Talk Live. "We value our listeners too much to take that route, so we do our best to make more features and content available for free than other talk radio shows hide behind their pay walls. It's a business decision, and given the fact that listeners tuned into the show for over 26,000 hours just via our online streams, only in the month of October, I'd say it's a good one."
Instead of charging listeners set rates for online features, podcasts and access to other goodies, Free Talk Live relies on AMPers to help offset the cost of running a massive website and marketing campaign. Short for "Advertise, Market and Promote," the AMP program helps the show grow and reach a larger audience. AMPers can donate $5-$25 per month, and those signing up for the $25 AMP program will be rewarded with a special edition tee shirt designed by a Free Talk Live listener.
"This is our way of saying thank you to our listeners," says Edge. "And if they send us photos of their swag – bumper stickers on cars, tee shirts being worn – we might even post them to our Facebook timeline if they give us the go-ahead."
Although only AMP supporters can get the special edition tee shirts, anyone can get bumper stickers. The stickers will be mailed out immediately, but the tee shirts will be delivered at the beginning of February - just in time to be worn to the Free State Project's Liberty Forum, one of the biggest liberty-based conferences in the world.
Free Talk Live is syndicated on over 110 radio stations nationwide and two XM channels, airs live original content seven nights per week, 365 days per year. The show and its hosts have won multiple awards and honors, such as topping the Hollywood Reporter's list of Up and Coming Radio Personalities and winning "Best Political Podcast" five times. Ian Freeman was also named one of the Young Guns of Talk Radio by Talkers Magazine.