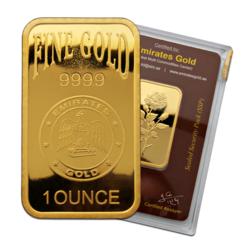 Emirates Gold bars represent excellent value combined with unrivalled quality, both the bar and packaging are very impressive...
Birmingham, West Midlands (PRWEB UK) 31 December 2012
Emirates Gold has been operating for more than 20 years in Dubai and processes up to 200 tonnes of gold per year. Having received support and encouragement from the Dubai Government, Emirates Gold counts itself as a major contributor to the rise of Dubai as a gold producer and is known for its solid reputation, finest quality product, superior client service and effective management. The company specialises in the processing of precious metals such as gold and silver, and offers a wide range of products, including different types and sizes of gold bars, coins and medals. Emirates Gold is rated as one of the top 65 companies in the world in gold and silver production.
Emirates Gold is the latest addition to The Gold Bullion Company's extensive portfolio. The choice of Emirates Gold bullion bars now stocked by The Gold Bullion Company ranges in weight from one gram to 100 grams. The Gold Bullion Company also carries a one ounce Emirates Gold bullion bar. Each premium Emirates Gold bullion bar is individually sealed in original packaging and comes with a certificate of authenticity to guarantee both weight and purity. The bars are VAT free and can usually be dispatched the next working day, fully insured.
The Gold Bullion Company website enables customers to buy Emirates Gold gold bars, as well as other gold coins, silver bullion and platinum and palladium products, online with a credit card, debit card or bank transfer.