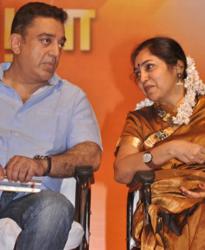 When Central Minister P Chidambaram speaks in Tamil, he does not use even a single English word. As he speaks in English, Tamil words do not take place.
Chennai, Tamil Nadu (PRWEB) December 31, 2012
A compilation book about Central Finance Minister P.Chidambaram titled "P. Chidambaram Oru Paaravai" was released on Saturday December 29, 2012. The event was held at Kamarajar Hall in Tamil Nadu, India.
The event was held without a hitch and was attended by most noticeable politicians, actors and other popular people. Among the celebrities were TNCC president B.S. Gnanadesikan, lyricist Vairamuthu, Tamil scholar Avvai Natarajan, poet Tamizhachi Thangapandian, actor Kamal Hassan and Prof. Abdul Kader participated in the event.
In an honour to mark the begining of the ceremony, the first copy of the book was received by Mr. Chidambaram's mother Lakshmi Aachi. Some of the more notable celebrities took to the stands to give few remarks about P.Chidambaram.
Actor Rajinikanth spoke a few words about P.Chidambaram, saying ''In a festival held several years back in the same stage, they said that I should talk two lines about P. Chidambaram. I said that I cannot talk just two lines about him, and that I should speak 10 lines about him. Now the time has come to speak those 10 lines. When Central Minister P. Chidambaram speaks in Tamil, he does not use even a single English word. As he speaks in English, Tamil words do not take place. He is fluent in both Tamil and English.
But when I speak here, my communication is mixed with both Tamil and English. Presently, younger generation and the youth in our country have started raising protest against several issues. The government knows the consequences very much. If necessary measures are not taken upon those issues, it would endanger the country. The government knows that it would cause revolution in the country. P. Chidambaram asked me why I am not into politics. If I enter politics, my route would be unique.''
Actor Kamal Haasan also spoke on the event, saying 'Although it is said that the Finance Minister, who is at the top should step down, he sits opposite to the stage among the audience. Do not ask him to step down any further. Man should climb the ladder of fame and not step down. But he needs to do more. He needs to accomplish. So, although there have been hassles, we are strong because they are strong. Since the Finance Minister has good name, he would get added responsibilities. I too desire that he gets added responsibilities. I have the right to speak on that. Fulfil my desire. My desire should be among that surge of happiness.'
Lyricist Vairamuthu was also a speaker on the event, Vairamuthu said 'Finance Minister P. Chidambaram has done many services to the uplift of the society. It is not alone a boon to hold the position, but also a pain. Earlier, a two-minute silence was observed in remembrance of rape victims following an appeal by the Finance Minister in the backdrop of the death of 23-year old victim of Delhi gang rape. We realize that there were less Tamils that raised their voice in Delhi. However, Chidambaram proves that he is there as one of the Tamils. Long live our Chidambaram'.
The event was a successful one with a diverse group of guests. Mr. P. Chidambaram was very excited about the release of the book and that many of his family and friends were there to mark this occasion.